4 December 2017, Cairo – Shell Lubricants Egypt has just announced its sponsorship of the Egyptian team at the World Cup to be held in Russia from 14th of June to 15th of July 2018
The sponsorship of the Egyptian team is an achievement that will be added to the successful history of Shell Lubricants Company; as the company is keen on sharing Egyptians' interests, namely, football. This sponsorship enhances Shell Helix support to the Egyptian sport, which first began since the sponsorship of Al Ahly 5 years ago.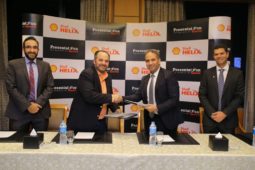 Using the slogan of "Drive On", Shell will support the Egyptian team in all its matches in Russia to "Drive On" its journey after qualifying for the World Cup – hoping to make the 90 million Egyptians' dream a reality.
Noting that this is the first time that Egypt has qualified for the World Cup since 1990, and the third time in the history of the Egyptian team to qualify for the World Cup between 1934 and 1990, where the team dropped out of round one.