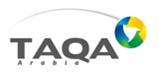 Crafting TAQA Arabia's Annual Reports and Communications Materials
TAQA Arabia is the largest private sector energy provider in Egypt. With over 16 years of experience, the company operates and invests in midstream energy operations such as infrastructure for gas transmission and distribution and power generation as well as downstream operations via the marketing of petroleum products. The group has grown from a local service provider to a regional competitor operating in seven countries in the Middle East and Africa.
The Challenge
TAQA Arabia was seeking a local communications partner with expertise in crafting professional and informative annual reports. MEAComS' market expertise and understanding made it the perfect choice, prompting TAQA Arabia to sign its first contract with the MEAComS team in 2010. The first collaboration involved the preparation, editing and design of TAQA Arabia's annual report for that year. However, the partnership grew to include further initiatives, including website content, biographies and grant letters on the company's behalf due to the successful implementation of the first report.
The Approach
To ensure MEAComS had all necessary information, its team held a series of in-person meetings with TAQA Arabia's communications department to ensure everyone had a clear grasp of the annual report's scope. The team also collected various TAQA Arabia communications materials to get a thorough understanding of the appropriate voice, structure and style TAQA Arabia preferred in its internal and external reports.
Once MEAComS had received the relevant report data, the team's editors took over, restructuring and updating the text and ensuring each section was concise, factually correct and flowed well. The editors also clarified data and requested any missing statistics, graphs and figures to complete the document.
The draft was sent to TAQA Arabia's communications head, for review and made changes and requests as need be. The draft was edited a second time, during which additional information and editing was done ready for the artwork to create the finished product.
The Results
As a result, of this well-orchestrated effort, the initial response from both internal and external stakeholders was positive. Through our prolific work with TAQA Arabia, we have helped the company improve investor communications through meticulously crafted annual reports that portray the company's brand well. Moreover, we worked to provide TAQA Arabia stakeholders with precise and up-to-date information on TAQA's website, which improved company transparency in terms of its operations.