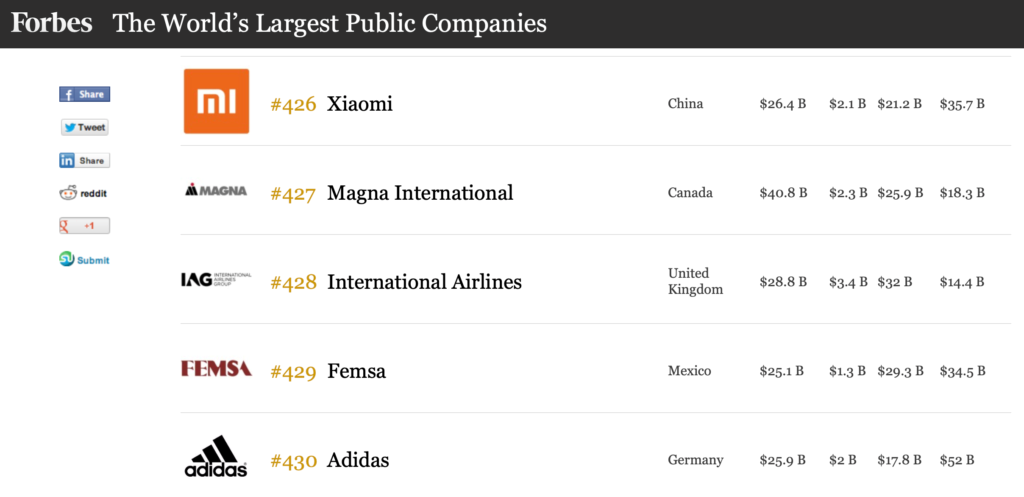 HONG KONG, May 16, 2019 – Xiaomi Corporation ("Xiaomi" or the "Group"; stock code: 1810), an internet company with smartphones and smart hardware connected by an Internet of Things ("IoT") platform at its core, made Forbes' 2019 Global 2000 list for the first time, ranking 426th. Xiaomi featured on the list thanks to its strong performance in market capitalization and strong growth in multiple performance indicators, including revenue, profit and assets.
Thanks to the Group's unique and powerful "triathlon" business model, Xiaomi enjoyed a strong 2018, even in the face of fierce competition from domestic and international peers. In 2019, Xiaomi officially launched the "smartphone + AIoT" dual-core strategy, which the Group believes will provide more opportunities for AIoT in the future and help Xiaomi reach its full potential.
Forbes Magazine compiles the Forbes' Global 2000 rankings annually. The list is regarded as one of the world's most authoritative and closely-watched corporate rankings, and is based on the integrated rating of revenue, profit, assets and market capitalization.