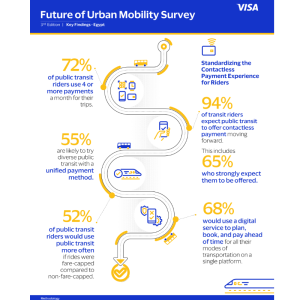 Survey finds 94% of commuters in Egypt expect transit to offer contactless payment options.
Findings reveal a growing acceptance of contactless payments among the public.
52% of survey audience would use fare-capped public transport services more frequently.
68% public transport users prefer to use a digital platform that seamlessly integrates contactless payment with all modes of public transportation.
Cairo, Egypt, November 14, 2023: As the concept of Mobility-as-a-Service gains momentum across the world, public transport users in Egypt are increasingly looking ahead to an interconnected, unified digital service that allows them to plan, book, and pay ahead of time for all modes of transportation, according to a study by Visa, the world's leader in digital payments.
The insights from Visa's recently launched 'Future of Urban Mobility Survey' in Egypt, which is part of a global study conducted in 12 markets among 11,500 survey audience, aim to better understand what matters to transit users today and what they want the future of transit to look like. The survey includes questions about how often they use public transit, why they use it, and what they expect in terms of new payment methods, among others.
According to the findings, 36% of survey audience in Egypt use public transit services as their primary form of transportation. Egyptians mainly use public transport for leisure activities such as dining, shopping, and spending time with friends (56%), work-related travel (46%), and to commute to office and back (46%).
Malak El Baba, Country Manager for Egypt, Visa, commented: "Public transport plays a vital role in how people travel within Egypt, whether it is for work or leisure. By breaking down barriers and integrating services, public transit services can empower individuals regardless of age, ability or socioeconomic status. Providing newer modes of transit services with capped fares, enabling contactless payments and integrating all these services within a single digital platform would significantly elevate economic growth, while providing safety and security to the public."
Key findings of the Future of Urban Mobility Survey
The results reveal key aspects of mobility within Egypt and factors that drive empowerment in public transport users.
Contactless payments enablement
Visa's Future of Urban Mobility Survey in Egypt found that 94% of commuters expect contactless payment options to be available on public transit. Furthermore, 50% of survey audience believes contactless payments significantly save time, due to faster transactions, add convenience (58%), and are easy to use and learn (38%). Going forward, transit users surveyed are more likely (39%) to use contactless payment (debit or credit) either physical or in a digital wallet for transit rides.
Single payment system adoption
Currently, 72% commuters in Egypt use four or more payment methods to pay for transport. As 52% of survey audience expressed their intent to use public transport more frequently in the coming 12 months, the speed, security, and ease of use of a unified payment system become crucial for creating a seamless travel experience. The findings also reveal that with a single payment method covering all transport expenses, 55% of survey audience would be likely to try different forms of public transit. More importantly, 68% of survey audience feels this would enable them to plan, book, and pay ahead of time for all modes of transportation through a single platform.
Provision of newer modes of transport
As transport systems undergo further development due to rapid urbanization, cities in Egypt have already started looking at multiple modes of transportation for inter-city travel. The use of contactless payments and single platforms offering varied modes of transit rides provide commuters convenient, hassle-free, easily accessible, and innovative solutions to choose public transit instead of private vehicles. A single payment platform would entice 47% of survey audience to use public transit more days in the week than they do at present.
Fare caps & journey time reduction
Payment options such as fare-capping represent an important opportunity for transit operators to serve as many riders as possible. Fare-capping limits how much a rider pays for their total rides in a day, week, or month, eliminating the need to tie up funds on a monthly pass or transit-dedicated card. According to the survey, more than half of the survey audience (52%) believes they would use public transport more often if fares were capped.
In Egypt, 40% of riders ranked faster journey times as on the top motivators that would encourage them to use transit more often. Fare capping can help speed up the boarding process by alleviating confusion over how to pay for newer riders.
Tapping into modern technology is a crucial milestone for public transit in Egypt. The Future of Urban Mobility Survey provides salient research that helps to integrate innovative ways to ride and provide a seamless, interconnected experience for transport users.
About Visa Inc.
Visa (NYSE: V) is a world leader in digital payments, facilitating transactions between consumers, merchants, financial institutions and government entities across more than 200 countries and territories. Our mission is to connect the world through the most innovative, convenient, reliable and secure payments network, enabling individuals, businesses and economies to thrive. We believe that economies that include everyone everywhere, uplift everyone everywhere and see access as foundational to the future of money movement. Learn more at About Visa, visamiddleeast.com/blog and @Visacemea