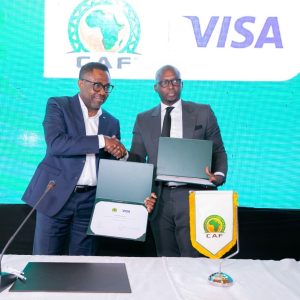 Visa's partnership with the Confederation of African Football (CAF) re-establishes Visa's role as the exclusive digital payment provider at all venues for the upcoming 2024 TotalEnergies Africa Cup of Nations (AFCON) tournament in Cote d' Ivoire.
Renewal of the partnership includes all AFCON tournaments until 2026 including for the first time, the Women's Africa Cup of Nations (WAFCON), the African high Schools tournament and the integration of Visa products and services in all of CAF's operations.
 Abidjan, C'ote d'Ivoire, October 16, 2023 – Visa, today announced the renewal of its partnership with the Confederation of African Football (CAF) until 2026, which establishes Visa as the exclusive digital payment provider for the upcoming 2024 Africa Cup of Nations (AFCON) tournament in Cote d' Ivoire.
The partnership will then span two tournaments – including the Women's Africa Cup of Nations (WAFCON) in 2024 and the Men's Africa Cup of Nations (AFCON) 2025 both of which will be hosted by Morocco – underscoring Visa's legacy of empowering athletes and building a more inclusive world through sport.
As the exclusive digital payment provider for the tournament, Visa will bring its payment technology to customers and connect African football's most passionate and engaged audiences through unique and unforgettable experiences during the tournament.  Visa will also launch its Player Escort Program for the tournament, offering children between the ages of 8 and 12, a once in a lifetime opportunity to walk alongside their favorite players on the pitch before the games.
The TotalEnergies AFCON 2024 tournament in Cote d'Ivoire will see 24 teams playing 52 matches across six stadiums with Visa providing its digital payment technology at all venues and for tickets bought in-person and online.
"The Africa Cup of Nations is one of the largest and most-loved football tournaments globally, with millions of fans tuning in from around the world to watch Africa's best teams and players," says Leila Serhan, Senior Vice President and Group Country Manager of North Africa, Levant and Pakistan (NALP) at Visa "Our partnership with CAF and the upcoming tournament in Cote d'Ivoire provides a platform for us to enhance the overall fan experience and further connect with our clients, partners, consumers and the communities in which we do business. We are looking forward to bringing new unique payment and fan experiences that will make the tournament truly memorable for fans everywhere."
CAF President Dr Patrice Motsepe said: "We welcome VISA which is a reputable and established global brand to the African Football Family. This partnership will contribute to increasing the popularity and attractiveness of CAF Competitions amongst football fans and spectators in Africa and worldwide. The TotalEnergies AFCON Cameroon 2021 was watched by more than 600 million people in approximately 180 Countries in Africa and Worldwide. We are confident that the TotalEnergies AFCON Côte d'Ivoire 2023 will bring together and engage more football fans and spectators. We are also delighted that VISA shares our commitment to invest, develop and grow Schools Football for Boys and Girls and Women's Football on the African Continent."
About Visa Inc.
Visa (NYSE: V) is a world leader in digital payments, facilitating transactions between consumers, merchants, financial institutions and government entities across more than 200 countries and territories. Our mission is to connect the world through the most innovative, convenient, reliable and secure payments network, enabling individuals, businesses and economies to thrive. We believe that economies that include everyone everywhere, uplift everyone everywhere and see access as foundational to the future of money movement. Learn more at About Visa, visamiddleeast.com/blog and @Visacemea.
About CAF
CAF is the governing body of African football and was founded in 1957. The founding members are Egypt, Sudan, Ethiopia and South Africa. With a membership of 54 Member Associations, the secretariat is based in Egypt.