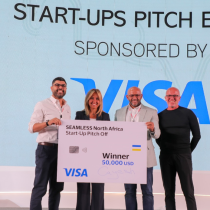 Winners were among five innovative fintechs that pitched at the Start-Up competition held as part of Seamless North Africa
 Cairo, 19 July 2023: Visa, the leading global payments technology company, announced Cayesh as the winner of the fintech Start-Up competition at Seamless North Africa, and the winner was awarded a $50,000 prize.
Visa as the platinum sponsor for Seamless, North Africa's biggest event covering payments, fintech, and banking innovation, held under the auspices of the Prime Minister of Egypt H.E. Dr. Mostafa Madbouly and hosted by the Central Bank of Egypt. The two-day event brings together representatives from the financial world to discuss industry trends and the future of money.
The Start-Up competition, held by Visa, received 70 applications. The five innovative start-ups shortlisted for the pitch off round were Kashnow, Synapse, Fuelin, and Spare, in addition to the winner Cayesh.
Founded in 2020, Cayesh is a fintech for supply chain stakeholders to facilitate availability, management, and mobilization of working capital through technology, know-how, and operations.
The winners received the award from Malak El Baba, Egypt Country Manager at Visa.
Highlighting Visa's commitment to supporting fintechs, she said, "At Visa, we believe that fintechs and start-ups are a powerful source of innovation, and collaborating with them can result in more innovate solutions. We are very impressed by the calibre of innovative minds here in Egypt and are excited to both celebrate their ideas and work with them to enable access to the digital economy for the underserved and the unbanked."
The competition winners were judged on a number of factors including business model, scalability, and market fit. The company's number of employees, foundation date, and number of users were also taken into consideration, along with their uniqueness in the sector, target audience, subject-matter expertise, and thought leadership role in the industry.
About Visa Inc.
Visa (NYSE: V) is a world leader in digital payments, facilitating transactions between consumers, merchants, financial institutions and government entities across more than 200 countries and territories. Our mission is to connect the world through the most innovative, convenient, reliable and secure payments network, enabling individuals, businesses and economies to thrive. We believe that economies that include everyone everywhere, uplift everyone everywhere and see access as foundational to the future of money movement. Learn more at Visa.com.