The agreement was celebrated at a Travelport-sponsored event marking the partnership of East West Travel Group with BCD travel in Egypt
Egypt, Cairo; 16th October, 2016: Travelport, a leading travel commerce platform, has signed a new multi-year agreement with East West Travel group, a leading, Egypt-based travel agency.
The East West Travel Group is well established in Egypt, having over 30 years of operational experience, and specializes in corporate travel. The East West Travel Group has also now become the sole representative of BCD Travel in Egypt. BCD Travel is a leading global corporate travel management company with over 13,000 employees worldwide and total sales in 2015 of US$25.4 billion.
To mark the occasion Travelport sponsored a partnership event with East West Travel Group and BCD Travel in Egypt at the Baron Palace Garden, a historic attraction in the suburb of Heliopolis, Cairo. The event brought together some of the leading players from the Egyptian travel industry from the airline, hotel and government spaces. The event was attended by His Excellency Mr. Mohamed Yehia Rashed, Egypt's Minister of Tourism.
As a result of the agreement, East West Travel Group and BCD Travel will now be able to access and utilize Travelport's unrivalled travel content – including the branded fares and ancillaries from the world's leading airlines and low cost carriers, as well as over 650,000 hotel properties, all from within the travel agent's workflow. Travelport has established itself as a key technology partner in the Egyptian travel industry and today's announcement with East West Travel and BCD Travel further reinforces Travelport's brand awareness in the region.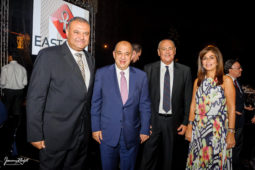 Bassem Wahba, Vice President at the East West Travel Group /BCD Travel commented: "This new agreement with Travelport gives us a fantastic opportunity to grow our business and offer our partners a unique experience when it comes to booking travel. We're excited to be working with BCD Travel in Egypt and our new partnership, backed by Travelport's technology sets us up to offer an effective and efficient service to business travellers.
Mervat Alfy, Country Manager, Travelport Egypt, said: "We are delighted to have East West Travel as a customer and we look forward to working with them to grow their business. We were also thrilled to be able to host this great event to mark our new partnership. Being able to share in this success with BCD Travel is also fantastic news and we look forward to working with both companies for the benefit of travellers across Egypt."