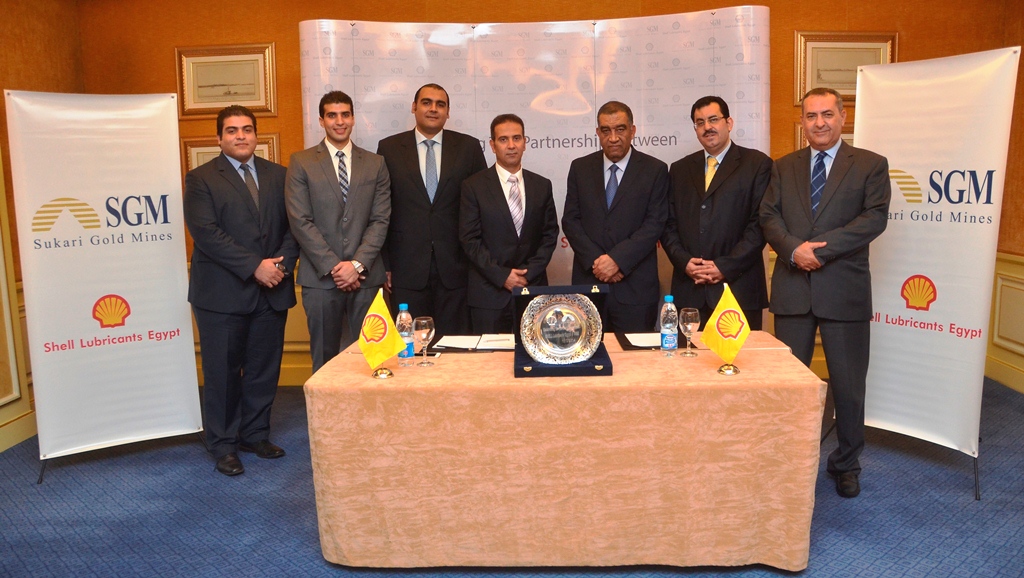 CAIRO, 19 March 2014: Shell, the number one global lubricants supplier and Sukari Gold Mines (SGM), announced the signing of an exclusive lubricants agreement, making Shell their preferred lubricants supplier in Egypt.
"We have entered into this partnership with Shell Lubricants Egypt, given its high-quality oil that is suited to the latest technology and equipment used at Sukari Mines," said Mr. Youssef El-Raghi, the Managing Director and Vice Chairman of SGM. "We trust this partnership with Shell will prove to be a positive endeavor for both organizations," he added.
Mr. Al Raghi also stressed that the mining sector has the potential to stimulate economic growth in Egypt, contributing to the Egyptian economy as an important industry in the long-term such as oil and gas, tourism and the Suez Canal.
Also speaking at the signing ceremony, Mr. Saher Hashem the Managing Director of Shell Lubricants Egypt stated that "Shell lubricants products are world-class and Shell prides itself on its commitment to quality and customer focus. We always provide technical solutions for our partners, which are reflected in the continuous improvement of their performance, productivity and profitability."
Pharaoh Gold Mines NL, the foreign partner with Sukari Gold Mine, and wholly owned by Centamin PLC, holds exploration rights to explore and mine gold and minerals in Egypt's Eastern Desert, under Law No. 222 of 1994. Sukari Gold Mine was discovered in 2001 and work commenced in 2005. SGM's investments are estimated at nearly US dollar 1.1 billion, while the company's gold ore reserves amount to more than 13.5 million ounces. The company is expected to double its production to reach 500,000 ounces annually.
Senior members attending the signing ceremony were Mr. Youssef El-Raghi, the Managing Director and Vice Chairman of SGM, Mr. Ossama El-Maghraby, the Government Affairs and Compliance Manager and Mr. Samir Abd El-Aziz the Finance Manager of SGM. On Shell's behalf, Mr. Saher Hashem, Managing Director of Shell Lubricants Egypt, Mr. Abdul-Rahman Hilal,  Petroleum Affairs Manager, Mr. Khaled El-Sayed, B2B Sales Manager and Mr. Samir Mahgoub, Cement & Mining Sector Account Manager were present during the signing.