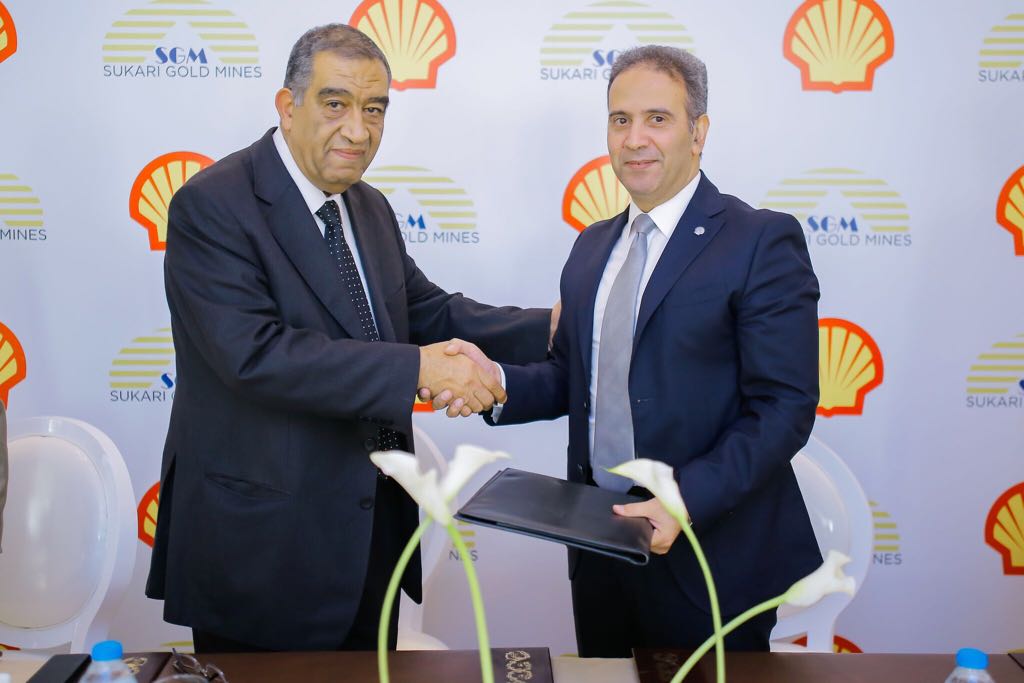 4 February 2018, Cairo – Affirming its leading position internationally as the largest supplier of superior industrial oils for the 11th consecutive year, Shell Lubricants Egypt renewed its partnership agreement with Sukari Gold Mine for the second time. The cooperation that began in 2014 makes Shell the only recommended lubricant supplier for all Sukari projects.
Those attending the signing ceremony representing Shell Lubricants Egypt included Mr. Saher Hashem, Managing Director of Shell Lubricants Egypt, Mr. Mustafa Sadek, Petroleum Sector Affairs Manager, Mr. Moataz Assayed, Sales Team Lead and Mostafa Mahmoud – Mining & Oil & Gas Sector Account Manager. While those representing Sukari Gold Mine included Mr. Ali Barakat, chairman of Sukari Gold Mine and Mr. Yousef Al-Rajhi, Sukari's Managing Director.
As part of this partnership, Shell will supply Sukari's activities and meet the company's needs for petroleum products.
During the signing ceremony, Saher Hashem, Managing Director of Shell Lubricants Egypt, said, "At Shell Lubricants Egypt, we have the expertise that always qualifies us to top automotive sector lubricants suppliers. We always strive for more cooperation with international companies such as Centamin, as the partnership is mutually beneficial."
"Shell Lubricants Egypt does not seek to be a mere lubricants supplier but to establish a fruitful cooperation and mutual benefit with our clients. We always provide technical solutions and services to our partners and this is positively reflected against the performance of their equipment as it increases production thus achieving higher profit rates", added Saher Hashem.
Mr. Yousef Al-Rajhi, Sukari's General Manager and CEO of Sukari Gold Mine, said, "Over the past three years, Shell has proven to be our perfect partner. At Sukari, we always strive to select and work with the best industrial companies. Shell is a leader in its field as it offers premium quality lubricants based on the latest technologies. We have therefore decided to renew our partnership with Shell Lubricants Egypt to not only benefit from their expertise and services, but to also achieve the highest production rates for our company. We look forward to continuing this partnership with a renowned and reputable company that Shell is."
Sukari Gold Mine is located in the Eastern Desert near the Red Sea, Egypt. It is managed by El Sukari gold mine company; one of Centamin Egypt companies, and in collaboration with the Egyptian Ministry of Mineral Resource. The Sukari mine reserves estimate is 13 million oz of gold.