10 May 2017, Cairo – Shell Lubricants Egypt signed an agreement to supply industrial oils and related services to South Helwan Power Plant, which is managed by the consortium of Toyota Tsusho corporation (TTC) & Mitsubishi Hitachi Power Systems (MHPS). The deal reaffirms the leading position of Shell Lubricants Egypt as the country's largest supplier of superior industrial oils to national mega projects. The signing ceremony was held in Four Seasons Hotel Cairo at Nile Plaza and attended by Mr. Saher Hashem, Managing Director of Shell Lubricants Egypt and Mr. Iwasaki, General Manager of Toyota Tsusho Corp. Egypt, in addition to senior executives from both companies.
"Shell Lubricants Egypt has an excellent longstanding relationship with TTC&MHPS as one of the most prominent power generation companies in the local market and globally," said Saher Hashem, Managing Director of Shell Lubricants Egypt.
"Shell Lubricants' strategy focuses on providing the best in-class products and services to industrial sector. This deal reaffirms our leading position in serving this key sector by striving to offer the optimum level of protection and operational efficiency to generation turbines and other components of South Helwan Power Plant, executed by TTC&MHPS . On this occasion, I want to sincerely thank the teams from both companies for their dedicated efforts during negotiations and faithful cooperation to finalize the deal," Hashem elaborated.
Shell Lubricants Egypt has successfully finalized the important deal related to one of Egypt's mega power projects. This is the first time that the company utilizes a unique package of premium quality industrial oils that rely on GTL technology, which transforms gas to crystal clear base oil, offering the ultimate level of protection and efficiency to metal components, generating equipment and turbines. Similarly, Shell Lubricants plays a vital role in supporting the Egyptian government's comprehensive development plan to enhance the capacity of the local electricity sector.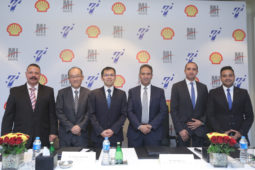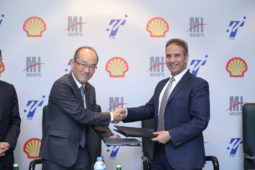 "South Helwan Power Plant is a part of a governmental plan to mend the power gap in Egypt," said Mr. Iwasaki, General Manager of TTC. "Similarly, we have an extended relation with Shell Lubricants Egypt, as we've previously selected the renowned company to support us in a similar project that consisted of four power stations located in different areas of Egypt. Shell has extensive global expertise and excellent reputation in providing the best in-class solutions and products, complemented by highly trained teams that are involved in commissioning phases of the plant, and in the production and operation as well. Toyota, Mitsubishi and Shell Lubricants Egypt share a mutual vision, aiming to offer the highest level of quality and efficiency at all costs."
Hashem concluded that Shell Lubricants Egypt has implemented a comprehensive vision of products and services needed to create the highest added value in favor of Toyota and Mitsubishi as per the predetermined budget of the mega project. He added: "Our longstanding relations with Mitsubishi Hitachi in previous projects laid a solid foundation for this particular project, which will contribute in addressing the growing power needs in the local market, by increasing power production capacity and hence supporting the national grid."
South Helwan Power Plant comprises of 3 Super Critical Steam Turbines that are currently assembled by TTC/MHPS. The state-of-the-art turbines operate with both natural gas and mazut fuel, which could be used in case of a gas supply shortage. A single turbine production capacity reaches 650 Mwatt, with 1.95 Gwatt total capacity of the plant, representing 6% of the national grid's entire production amounted to 30 Gwatt.