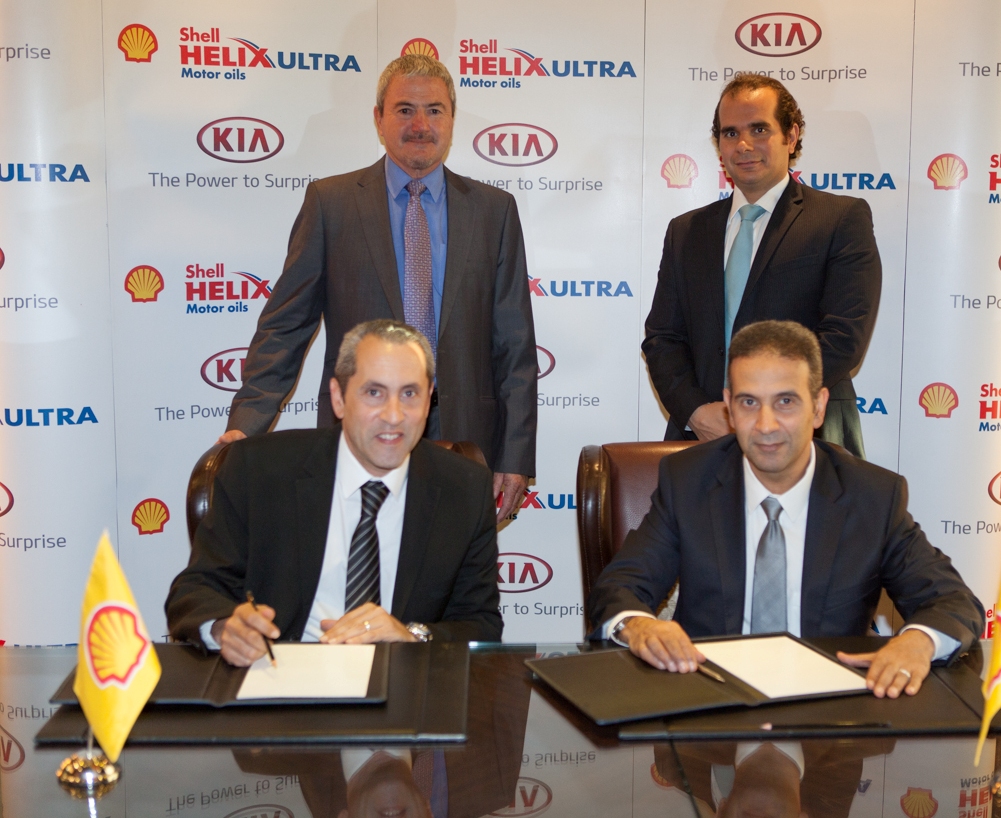 Cairo, Egypt, 11 September 2014: Shell Lubricants Egypt announces the renewal of its strategic partnership with the Egyptian International Trading & Agencies Co. (EIT), the sole distributor of Kia Motors vehicles in Egypt.
The new contract will ensure that Kia vehicles in Egypt are supplied with the new Shell Helix Ultra with PurePlus technology, Shell's top of the range motor oil.
Commenting on the renewal of the partnership, Mr. Saher Hashem, Managing Director of Shell Lubricants Egypt re-affirmed the company's commitment to excellence. "Shell Lubricants Egypt is proud to continue this collaborative support with the Egyptian International Trading & Agencies Company (EIT) thanks to our in-depth expertise in giving our partners a competitive edge in the Egyptian market. Today, we announce the supply of the new range of Shell Helix covering a wide sector of car owners in the Egyptian market," he said.
On his part, Mr.  Khaled Youssef, Head of the Automotive Sector at the Egyptian International Trading & Agencies Co. (EIT), the exclusive distributor of Kia Motor Vehicles in Egypt said, "EIT is willing to provide the highest standards of services to its customer base, which will positively reflect on higher customer satisfaction when it comes to car maintenance."
"Customer satisfaction is a key objective at EIT; clearly marked at every visit to our service centres throughout Egypt. Accordingly, we are very pleased to renew our cooperation agreement with Shell Lubricants Egypt, to embody our customer-centric approach based on the premium quality and outstanding performance of Shell Helix products, while providing the highest performance to all Kia Motors customers in the Egyptian market," he added.
The newly launched Shell Helix oil generation has been re-developed in terms of form and content, in particular the Shell Helix Ultra which is 100% synthetic and relies on gas to liquid technology. Shell helix ultra combines Shell PurePlus Technology with Active Cleansing Technology to deliver the highest levels of cleansing against engine deposit build-up and sludge, which helps to extend engine life, reduce maintenance costs and save on oil consumption.
Shell celebrated the inaugural ceremony with the attendance of Mr. Saher Hashem, SLE Managing Director, Mr. Abdel Rahman Helal, Petroleum Sector Affairs Manger, Mr. Hatem El Malla, Automotive Section Sales Manager, Mr. Haitham Yehia, Marketing Director, Mr. Khaled Seif, Direct Marketing Manager and Mr. Mohamed Taha, Account Manager.
EIT was represented by members of top management including; Mr.  Khaled Youssef, Automotive General Manger , Mr. Amgad El Feky, Kia Motors'Sales Director, Mr. Ken Miller, GM of After-Sales Service, Mr. Eric Kashira, GM of Spare Parts, Eng. Khaled Shalaby, Kia After Sales  Manager, Eng. Nasser Gad, Spare Parts Manager in addition to Mr. Sherif Fahim, Marketing Manager.