Cairo, Egypt –16 January 2014: Shell Lubricants Egypt participated in the annual celebration, which was held by Cairo National Automotive (CNA), one of Egypt's authorized Mercedes Benz dealers in Egypt on Friday, 13 December 2013. The event took place at CNA's Kattameya headquarters. Employees, clients, attended the event alongside Indimaj the first and largest "edutainment" center in the country.
CNA hosted this celebration for the second consecutive year, with the aim of strengthening relations with Mercedes Benz clients. It is also an opportunity to thank those who have made CNA's business such a success. Shell Lubricants Egypt was among those to receive thanks as CNA's Partner in Egypt.
Throughout the day, attendees enjoyed activities with their children, who were treated to face painting and comedy shows.  Mercedes Benz clients were given the opportunity to test drive the latest Mercedes Benz cars available in Egypt. Shell Lubricants Egypt has several strong standing partnerships with Mercedes Benz dealers. In the past year, Shell Lubricants Egypt signed a contract with the Cairo National Automotive Company, one of Mercedes Benz's distributors in Egypt. The deal reflects the automotive industry's confidence in Shell lubricants and oil products, which continues to meet & exceed sector needs..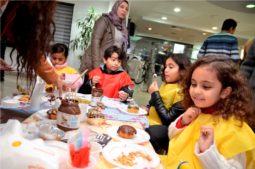 Mr. Mohamed El Kenany, CNA's Marketing Manager, said he was pleased with this partnership between CNA and Shell. "The Cairo National Automotive Company will continue to work hand in hand with Shell Lubricants Egypt to meet our customers' needs. But we can't do this by sticking to the status quo. Instead, we must always strive to ensure we only offer the best quality products and services", he said.
"The fruitful partnership between Shell and CNA benefits Egyptian consumers. Shell lubricants are high-quality engine oil products That are able to meet the technical requirements of luxurious Cars, even in the most difficult operating conditions," said Mr. Saher Hashem, Managing Director of Shell Lubricants Egypt. "Shell has achieved a worldwide reputation for product excellence thanks to a strong portfolio of lubricants and oils that are performing above industry expectations."
Engines are kept in peak condition because Shell Helix Ultra has "Active Cleansing Technology" that works to protect engines by formation of harmful deposits, which accumulate inside engines. The synthetic oil also improves engine performance and helps in extending oil drainage intervals.
"Shell Lubricants Egypt will continue to build on customers' loyalty to its products. We are quite confident that the trust big automotive industry companies have for our lubricants and oil products, will always motivate us to meet all their needs and maintain our leadership status in the local and international market." added Mr. Hashem.