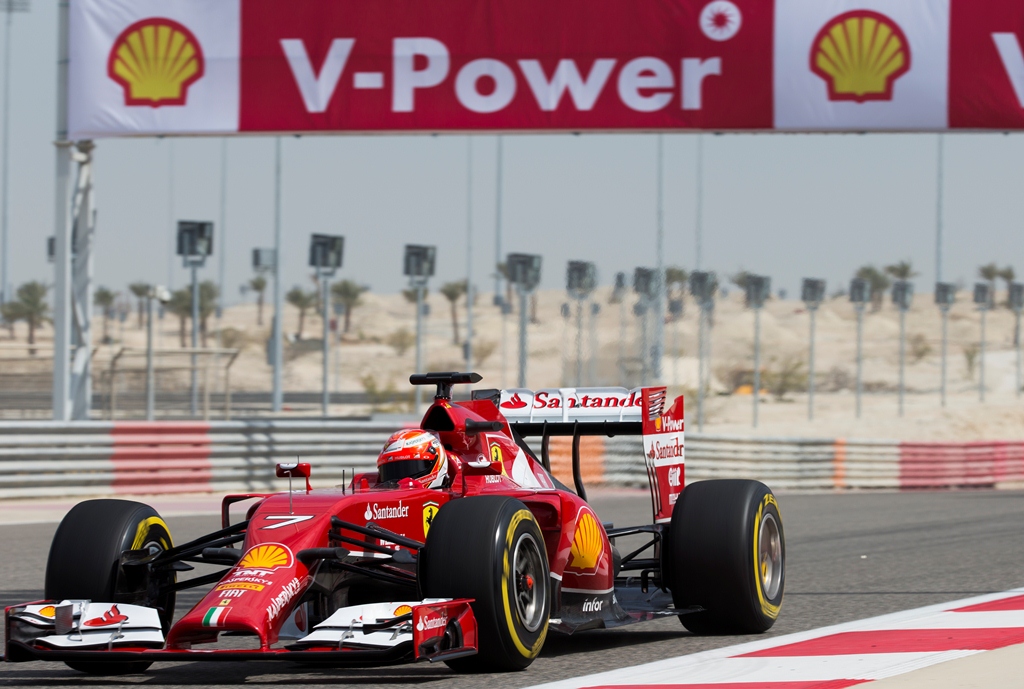 Shell Helix Ultra technology is a critical component of the Scuderia Ferrari Formula One engine.
Tasked with protecting the engine's moving parts and managing the heat generated within the power unit whilst still allowing the engine to run as freely as possible; the role the engine lubricant has to play has always been
extremely challenging. This is even more true in 2014, a year which sees the introduction of new technical regulations to the FIA (Fédération Internationale de l'Automobile) Formula One World ChampionshipTM.
Perhaps the greatest challenge stems from an engine re-design: Formula One engines have changed from a capacity of 2.4 litres to smaller 1.6-litre engines. The new V6 engine is also turbo-charged and forms part of a
power unit including the Energy Recovery Systems (ERS). The net result sees components revolving at higher speeds and working within a much more hostile environment in terms of operating temperatures and packaging.
Furthermore, this year each driver is limited to just five power units for the 19 races, down from eight last year for the same number of races. Any engine used in addition to this allowance would see severe grid penalties imposed on the driver. Therefore, Scuderia Ferrari has been looking to Shell for lubricant technology to provide protection throughout this extended engine life without decreasing the performance.
For Shell's scientists and all of the Formula One teams competing this year, this new regulation change presents a  significant challenge.
"The changes for 2014 put even more demands on the oil to protect and cool the entire power unit, with engine reliability being absolutely vital. Therefore, it is of paramount importance for the Formula One car to use a lubricant that can protect the engine comprehensively, whilst simultaneously helping to deliver maximum power and performance. Shell has engineered bespoke Shell Helix Ultra lubricants that deliver performance and protection for one of the most complex power units in motor racing history." Guy Lovett, Shell Formula One Technology Manager
For the 2014 season Scuderia Ferrari has a suite of bespoke Shell Helix Ultra formulations at its disposal and, as the world's most extreme automotive test bed, Formula One represents the ideal platform for Shell to develop its range of products for the everyday motorist. Many of the compounds used to power and protect the Scuderia Ferrari engine can be found in Shell Helix Ultra's road-going products.
From January 2015 the new season's oils will be formulated using Shell's new revolutionary patented PurePlus Technology. For many years Shell has been at the forefront of gas-to-liquids technology and with Shell PurePlus Technology now at the heart of every oil tested by Shell's Technical Partner, Scuderia Ferrari can also enjoy the benefits of this latest innovation.
Shell has decades of experience working with race and road-going engines, both naturally aspirated and turbocharged; in fact, the engine of every Ferrari road car leaving the production line is already filled with Shell Helix
Ultra with Shell PurePlus Technology. Shell has developed this entirely new method of producing synthetic base oils1 from natural gas that provides a crystal clear base oil with virtually none of the impurities found in crude oil. This means we can develop superior lubricants that can keep pace with the changing demands of the modern engine and improve its performance and life. When combined with Shell Helix's Active Cleansing Technology, Shell Helix Ultra with Shell PurePlus Technology will deliver even higher levels of cleaning and protection, meaning that no other motor oil keeps road car engines closer to factory clean.