Cairo, 17 March 2014: The African Development Bank today hosted a panel at The Four Seasons-First Residence Hotel, as part of a knowledge sharing series the bank has initiated in Egypt.
With over 50 experts and practitioners on micro small and medium enterprises, the panel will discuss the situation of North African women in terms of employment, with a particular focus on SMEs and the development of entrepreneurship.
In her opening remarks, Dr. Leila Farah El-Mokaddem, the new Resident Representative of the African Development Bank in Egypt, stressed the importance of addressing impediments to women's employment in order to unleash the untapped potential of female participation in North African economies saying, "The economic empowerment of women is a hidden opportunity for our continent. Women constitute what we call "smart economics" – by expanding income generation to both women and men, families are collectively better off, while the economy is more productive resulting in an overall win-win situation."
Prominent academics, experts and leaders in the field of development on the panel included Ms. Hanaa El-Hilaly, Acting Managing Director of the Social Fund for Development; Dr. Alia El-Mahdy, Faculty of Economics & Political Science, Cairo University; Dr. Heba Handoussa, Egyptian Network for Integrated Development.
Other panelists included Mr. Jean-Pierre Marcelli, Head of the Agence Française de Développement in Egypt; Dr. Amany Asfour, Head of the Egyptian Businesswomen Association and Dr. Fatemah Khafagy, National Council for Women.
Women's employment in micro, small and medium enterprises is not a new concept to Egypt nor to the North African region. In specific, the microfinance sector is characterized by a high concentration of women who have income-generating businesses in an effort to get out of poverty.
However, the demographic changes in North African countries, where youth constitute the majority of the population coupled with the increased access to education over the past 30 years, has enabled North African young men and women of today to become successful entrepreneurs in a multitude of fields.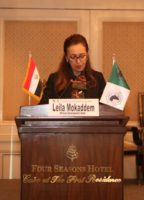 For this to happen, Dr. El-Mokaddem says, "the concept of financial inclusion needs to be expanded and mainstreamed in all North African countries, and particular focus must be given to creating an environment that is conducive to women's economic empowerment."
Dr. Hadi Asfahani, Professor of Economics at the University of Chicago and AfDB consultant, also spoke about how social and cultural factors often hinder the economic empowerment of women in North Africa: "women tend to rely on private and informal funding sources, which limits them particularly if their social network is limited."
The African Development Bank is one of Egypt's main development partners active in supporting the micro, small and medium enterprises sector. The AfDB has supported access to finance, by providing the Social Fund for Development and the National Bank of Egypt with lines of credit of up to USD400 million for onwards lending to the direct beneficiaries.
In total, 68,500 micro, small and medium sub-loans have been issued through AfDB financed projects, with approximately 30% of these sub-loans channeled to women. The AfDB has also implemented the "Women's Economic Empowerment Project" which targets rural women in the New Lands area, providing them with micro-credit through the Principal Bank for Development, as well as with training in handicrafts, marketing, finance and other areas.
Supporting the development of the MSME sector in Egypt continues to be one of the AfDB's priorities.