Hana Ibrahim is an Egyptian visual artist who employs visual elements to revive the country's rich native heritage through visionary contemporary art. 
The concept of "Modern Visual Arts" wasn't familiar in Egypt until the establishment of the School of Fine Arts in the early twentieth century.
The inauguration of the school, now named "The Faculty of Fine Arts", would see a host of Egyptian talent emerge as prominent artists, whilst championing a modern revival and reverence for Egyptian heritage. It was Sir Herbert Reed, an English critic who said, "Studying heritage, forms of society and arts, and the relationship between social structures, is essential to settle on the modernization aspect we wish to pursue."
Heritage forms the building blocks upon which all artistic endeavors rest, portraying a set of cultural and philosophical values, which contribute to enriching history. It also provides space for tackling modern creative intellectual horizons connected to the future.
In the same sense, Hana has grown to be an exceptional visual artist, whose inspiration to utilize and revive Egypt's rich heritage shines through her inimitable works of art. Her work seeks to highlight intrinsic Egyptian values from the country's cultural past, which have become rare in this day of time. The designs she created for a set of office stationery using historical symbols have advanced and modernized the Hamsa Hand, Palm Hand, Horse and Tanoura, through radiant colors that capture the essence of our modern era. These products are being exhibited at Diwan Bookstores and Um El Dounia Gallery.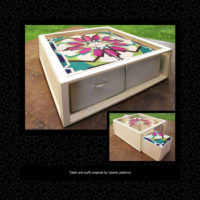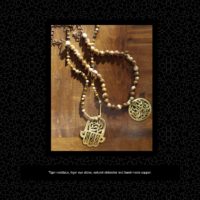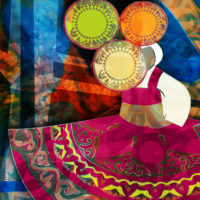 In finding her artistic inspiration, Hana believes that Egypt offers much to stimulate and stir her work. Through countless references and images from the surrounding environment, in her past and present, Hana has grown to find intimate moments with the elements that surround her, to create works of art through them.
Hana's installations include a revival of ancient handcrafts based on Egyptian Khayamia designs. She has offered workshops with Khayamia's craftsmen and introduced new designs to the craft. Through these workshops, she presented a collection of Khayamia designs that combined wood and textile used for decorating tables, trays, curtains, stationery, mirrors, sofas, lighting units and children's products. Her exquisite craft hood used Egyptian materials such as cotton in creating these products.
Hana's artworks are publicized domestically, in addition to participating in international exhibitions, where she is always proud of the phrase "Made in Egypt".
As for her plans in the future, Hana says that she plans to complete a new collection, which will embody the Pharaonic essence, yet she is still on the lookout for a novel way to execute her ideas.
"Putting our history into consideration always makes us productive and fruitful because making use of our heritage conveys the particularity of the place at the hand of its artists," she concluded.