Cairo, 7 May, 2013: Over 200 staff members from Novartis Egypt, representing the company's various divisions or sister companies including Novartis Pharma S.A.E, Novartis Consumer Health ('OTC'), Sandoz S.A.E, and Alcon Scientific Office in Egypt, contributed their time and effort to commemorate the company's 17th Community Partnership Day. The group paid special visits to Al Nour wal Amal Association and Egyptian Food Bank to promote and encourage the special role they take on within the Egyptian society.
"People for People" was the theme undertaken by the Novartis initiative. The company team helped members of Al Nour wal Amal Association, whom endure vision impairment, to embellish their surroundings with colorful designs and graffiti in an endeavor to advance social awareness on this vital issue.
"Wednesday 24th April marks our 17th annual Community Partnership Day, an essential way in which Novartis lives up to its fundamental corporate citizenship commitment," said Mr. Mahesh Karande, Novartis  Pharma Office Head and Country President. "As a devoted corporation, Novartis Egypt plays an essential role in building a better, healthier society. We believe that since a country's success falls back largely on the prosperity of its people, engaging our employees in critical social functions and spreading awareness on these matters will ultimately lead to society's betterment. Which is why contributing and working with community members in need is a vital part of Novartis company values," he added.
After their kind relief, the Novartis staff attended a workshop on Braille to understand the language and gain a stronger attachment to their companions. They were taught on how to write their names, and then assisted a group of adolescents at the center in completing their homework through reciting questions and assignments. To leave a continual impression on their lives, Novartis donated media players and audio books to inform and illuminate young women at the center.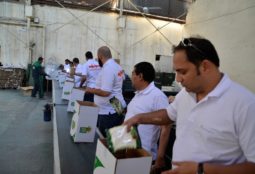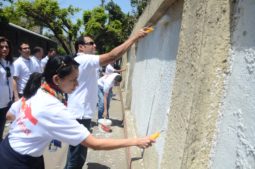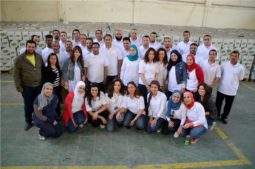 As a further part of the community outreach, Novartis employees visited the Egyptian Food Bank. There, the team helped put together more than 1000 ready-to-go meals and arranged essential food provisions, where these necessities are set to be distributed to underprivileged families across the country. "It lies within our core belief that every human has the right to access an adequate, balanced intake of food, and therefore we are thrilled and grateful to the effort and volunteering activity done by the Novartis employees initiative, which helps the same conviction," said Aya Ayoub, the Egyptian Food Bank, spokesperson. "I believe that through uniting our efforts with the private sector, we can truly attain an Egypt free from Hunger. Thanks to Novartis staff members. We are now one step closer." she added. The Egyptian Food Bank is a neutral organization specialized in overcoming and fighting hunger by introducing diversity and effective programs to solve this problem continuously not seasonally. The Egyptian Food Bank is cooperating with institutions and parties concerned with hungry people in Egypt. Egyptian Food Bank client is underprivileged people namely; the elderly, disabled, sick, widows, orphans, and breadwinners.