Cairo, 22 October 2018, In a ceremony attended by senior executives from Nissan Motor Egypt and Auto Egypt, the opening of the latest service center for Nissan's authorized dealer "Auto Egypt" took place in Nasr City, Northern Cairo. The branch is a 2S facility which includes an after sales services center and a spare parts outlet.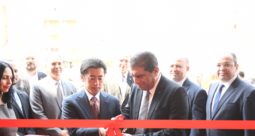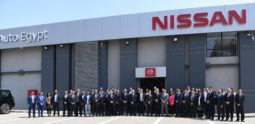 The new service center is part of Nissan's strategy to expand its network in Egypt, reaching to customers across the country. To date, Nissan has 47 branches in Egypt, including 25 for after-sales centers. The opening ceremony was attended by Kohei Maeda, Chairman of NMEG, and Mohamed El Kasrawy, Chairman and Managing director of Kasrawy Group, in addition to several senior executives from both companies.
Equipped with state-of-the-art equipment and encompassing an area of 1600m2, divided to two floors. The first floor includes maintenance, mechanical works and customers reception, the second holds a hall for customers and an entertainment area with PlayStation, along with a kids area, making their wait more enjoyable and relaxing. Also a VIP lounge for businessmen who would use the time to finish some work, all with Wi-Fi access.
The new service center now serves 50 cars daily as an initial phase to be followed by a second one, which will operate extra shifts to serve 100 customer daily.
Auto Egypt currently runs six service centers and has been one of the most important partners of Nissan in providing high quality services in the Egyptian market since 2005. Auto Egypt collected numerous awards including five awards as one of Nissan's top dealers in the world in terms of sales performance, customer satisfaction and aftersales service making Nissan Auto Egypt the only authorized dealer to win this award for five consecutive years from 2012 to 2016.
Maeda stressed the importance of Nissan's dealers network, which is the main key to increase Nissan's investments in Egypt, and the importance of continuing to offer unique experiences to satisfy our clients. "Today we celebrate another success story, owning a strong dealers' network is Nissan's most important pillar of success" said Maeda.
Nissan's cars are always equipped with latest tech, satisfying its customers' needs, investment plan of the brand to expand its network to serve all customers all over Egypt.