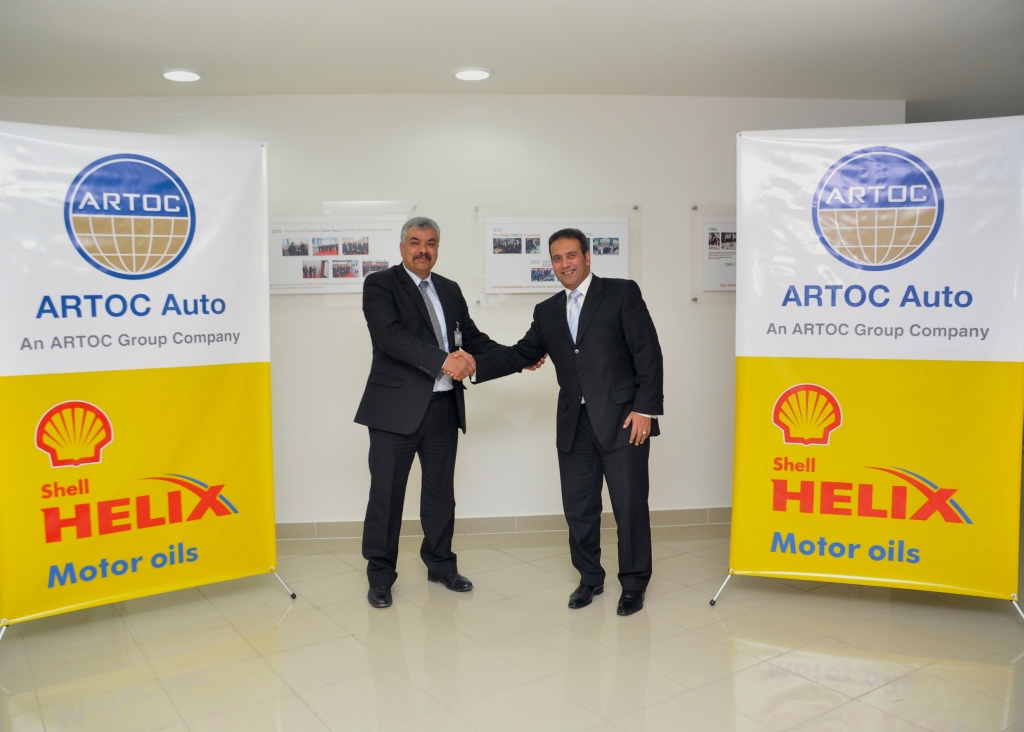 Cairo,23 November 2013: Artoc Auto Egypt, the sole authorized dealer of Skoda-brand vehicles in Egypt, continues to strive for excellence through strategic partnerships. In that vein, Artoc Auto recently made Shell, the globe's leading synthetic oils producer, the auto firm's main lubricant supplier.
Under the new contract, Shell will supply Artoc Auto with Shell Helix Ultra, leading synthetic oil that has active cleansing technology to better protect engines in challenging conditions. It also prevents the accumulation of harmful deposits inside the engine, allowing vehicles to operate at maximum performance for longer in between oil changes.
According to Artoc Auto, Shell was chosen due to its dedication to technological advancement in the lubricants and oils industry as well as the trust Shell shares with its customers. Shell is also a proven leader, both in Egypt and internationally.
Several members of Artoc Auto's executive team attended the signing ceremony, including Mr. Ahmed Mehrez, General Manager, Eng. Hussein El Werdany, President of After Sales, and Eng. Maged Abd El Halim, Maintenance Manager.
Shell's top brass were also on hand, with representatives such as Mr. Stavros Kokkinis, Regional General Manager for the Mediterranean, Mr. Saher Hashem, Managing Director for Shell Lubricants Egypt, Mr. Daniel Kust, Contracts Manager for Skoda, Hatem El Malla Direct Marketing Manager & Mahmoud El Hadary Automotive Key Account Manager in attendance.
During the ceremony, Mr. Kokkinis stressed the importance of meeting the needs of Egyptian auto buyers. Mr. Hashem echoed his statements, and added that their partnership would likely result in growth opportunities for both companies in the future.
Mr. Daniel Kust, said the foundation of the new agreement between Shell Lubricants Egypt and Artoc Auto lies in the combined strength of the companies' reputation in the market. Shell Lubricants Egypt also saw an opportunity to growing its business and fostering teamwork between domestic and international firms. Kust said he believed the partnership with Artoc Auto will help boost the "Franchise Workshop" concept. "I look forward to taking our cooperation with Artoc Auto to the next level," he added.
Shell lubricants offer many competitive advantages, which meet and perform above most engine and heavy equipment requirements. With the help of Shell's loyal staff, comprised of more than 200 researchers, 300 technicians and advisors, and 1,000 specialists, the company will no doubt grow further and achieve greater heights of technological excellence. Already its products, such as Shell Helix Ultra, are considered industry standards across the world.
As part of efforts to offer better service for its customers, Shell is working to cement numerous partnerships and strategic cooperation agreements as it moves forward. Shell is also committed to building its market share in Egypt as it remains an important region for the brand.