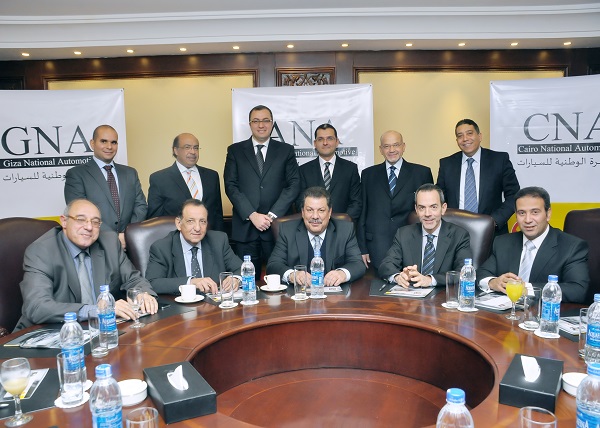 Cairo, Egypt – 9 October 2013, Shell Lubricants Egypt continued to maintain its leadership in the Egyptian market through dealing with successful market leaders in automotive sector and offering the best services to their customers. The company signed a partnership contract for Shell lubricants provision exclusively to official distributors of Mercedes Benz- Egypt.
The official distributor for Mercedes Benz and the owner of the whole network of distributors – National Motor Company (NATCO) – has attended the signing with its representative Mr.  Michael Papa Stefano –CEO, Mr. Maged Raafat, CFO  along with Mr. Yousri Ismail, General Manager of Giza National Automotive (GNA), Mr. Maan El Hamawi, General Manager of Cairo National Automotive (CNA) and Mr. Magdy Michel, General Manager of Alexandria National Automotive (ANA). While from Shell Lubricants– Egypt, Mr. Stavros Kokkinis- Regional General Manager for the Mediterranean region as well as Mr. Saher Hashem, Managing Director, Shell Lubricants Egypt, Mr. Hatem El Malla Direct Marketing Manager and Mr. Mahmoud El Hadary, Key Accounts Manager
"This fruitful cooperation between Shell and the National Motor Company, owner of distributors network of Mercedes-Benz – Egypt, is for the benefits of Egyptian consumers ; while Shell lubricants produce the best and high-quality engines oils which will fit all kinds of Mercedes-Benz cars engines in Egypt and in the most difficult operating conditions" Said Mr. Saher Hashem, Managing Director, Shell Lubricants Egypt after signing the contract, " Shell has achieved a worldwide prevalence and supremacy in the global markets for lubricants because its products enjoys everyone's confidence around the world" He added.
The results also showed that several types of Shell's oils and lubricants are able to provide competitive advantages which satisfy the latest engines and equipment needs, due to Shell's best team of experts in development lubricant technology of more than 1,000 specialists, 200 researchers, 300 consultants and technicians.
Synthetic oil for gasoline engines "Shell Helix Ultra" is a proof of Shell's distinct progress achieved by the company team in this field, through the synthetic technology of "Shell Helix Ultra" engines can obtain more effective cleansing which called " Active Cleansing Technology", this technology works to protect your engine in the most difficult operating conditions, also it supports fighting harmful deposits accumulation on the inner surfaces of the engine continuously, as well as an improved performance which makes engine runs at full capacity until next  time to change oil.