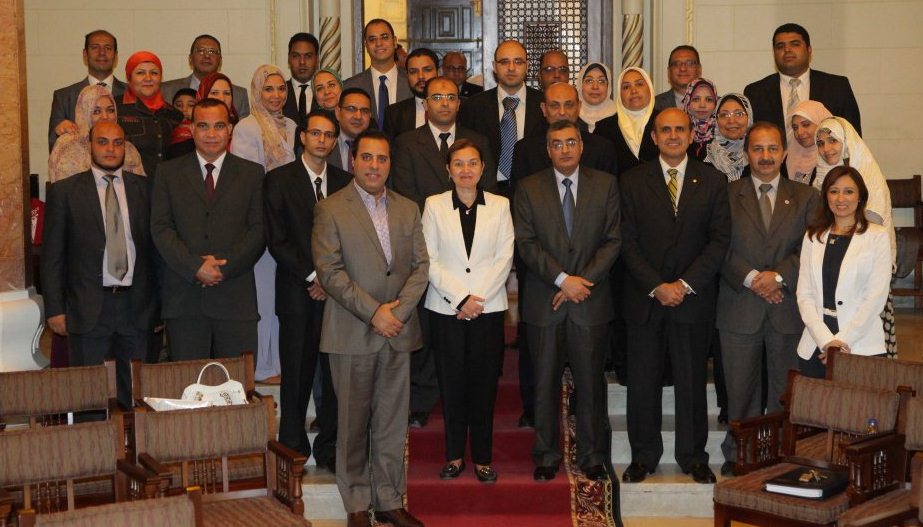 Cairo 29 September 2014:  The Health Insurance Organization celebrated the graduation of the first batch of doctors and pharmacists working in management of the HIO hospitals, concluding a management training course. The course aims at improving the service level provided by public health insurance hospitals nationwide.
The ceremony was attended by Dr. Ali Hegazy, Head of the Health Insurance Organization, Dr. Emad Greis, "Merck Serono Egypt" Managing Director and Dr. Magdy Ibrahim, Management Science Professor at the American University in Cairo.
Dr. Ali Hegazy, Head of the HIO  has declared that: The continuous training and development of competencies and skills of staff; whether doctors, pharmacists or administrators, comes on top of the Organization's priorities. Therefore, the Health Insurance Organization is keen to design an integrated annual program for continuous training. It comes out of the belief that good training generates creative and innovative ideas to reach the ultimate goal of providing a  developed and distinguished service to the Egyptian patient."
According to Dr. Emad Greis, Managing Director of German Merck, "In the framework of the Company's exerted efforts as part of its social responsibility for the development and advancement of the public health in Egypt, "Merck Serono" contributed to sponsoring this training course and has provided all the necessary facilities. Out of the belief that management is a scientific art; such training courses should be generalized to save time and facilitate the Egyptian patients' treatment and recovery process."
Worth mentioning, that the trainees performed  their  presentations about their projects, where they showcased different ideas for their workplaces development.  Moreover, they identified their problems and proposed solution.  Each one now is anticipating the transfer from theoretical to practical experience. The most significant of those ideas is preparing a new generation of leaders, as well as developing the infrastructure of hospitals and well chosen director for the Emergency  department.  They also suggested constant incentives in order to create an environment for better performance, in addition to creating a fixed "trauma team" in every hospital to better cope with accidents and disasters.
The activities of this course began on the ninth of August and lasted for eight consecutive weeks. It included 20 trainees from the Delta and Upper Egypt; covering Qena, Assiut, Minya, Cairo, Giza, Alexandria and Mahalla governorates.
Dr. Ali Hegazy has nominated the trainees in order to motivate doctors and pharmacists to better perform their jobs and out of his belief in the importance of human development.