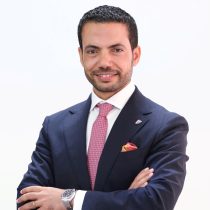 15th August 2023: Network International Interim results Egypt press release

UAE Headquartered Network International Delivers Strong H1 2023 Results with Revenue up 19%1 y/y and underlying EBITDA increasing 23% y/y
Network International Holdings Plc (LSE:NETW) ("Network" or the "Company") today announced its interim financial results for the half year ended 30 June 2023.
Dr. Reda Helal, Group Managing Director – Processing, Africa and Co-Head Group Processing, commented: "Our Egypt business continues to deliver robust performance, building on Network's firmly established position as a leading provider of outsourced processing services and our newly launched direct-to-merchant service. Our extended merchant solutions offering received exceptionally strong demand with more than 700 merchants secured to date, underscoring the dynamism of the digital payments landscape in Egypt and the strength of our expanded offering."
Nandan Mer, Chief Executive Officer, commented: "Network saw another good trading period, delivering 19% constant currency revenue growth in the first half of the year. Our performance continues to be supported by the acceleration of digital payments growth across key markets but is also evidence of our successful strategic execution, competitive services and product offering. Performance in our home market of the UAE has been particularly good, where we have seen consistent market share gains in direct-to-merchant services through 2022 and into 2023, supported by our continued focus on high growth strategic areas such as SME, online and hospitality. We have made good progress in new market opportunities, having secured another three new financial institutions in the Kingdom of Saudi Arabia and signed over 700 merchants since our direct-to-merchant service was launched in Egypt earlier this year. Whilst overall Africa performance was slower on the back of tough macro-economic conditions, we have recently deployed on-soil technology capabilities in South Africa, positioning Network to better serve customers locally and providing excellent foundations for future growth. We remain encouraged by performance across the Group and I thank our colleagues for their expertise and delivery of such good results."
Strong financial performance
Revenue for the first half of 2023 increased 17% (19% in constant currency) to USD 239 million compared to the same period last year, driven by stellar performance in the UAE and Jordan, with Merchant Services up 30% (33% in constant currency) and Outsourced Payment Services up 7% (9% in constant currency). The Middle East witnessed significant growth in the value of merchant payments processed from domestic consumers and international visitors, increasing 28% and 53% year on year respectively, reflecting the UAE's resilient domestic consumer spending and strong influx of tourists in addition to the strength of Network International's competitive offering. Across the group, which includes African markets, the total value of consumer payments processed with merchants grew 31% (33% in constant currency) year on year, supported by Network International's strategic focus on the high growth SME, online and hospitality sectors.
Underlying EBITDA increased 23% to USD 94 million in H1 2023, compared to the same period last year, supporting a healthy margin of 39%, up 210bps year on year. This reflects Network's strong revenue performance and cost control, whilst it continued to invest in its product capabilities and future growth.
Profit for the period was USD 35 million, up 9% year on year, as the company's strong underlying EBITDA growth was slightly offset by higher net interest expense due to rising market interest rates and a higher effective tax rate due to growing profits across Africa. Consequently, Network International generated robust underlying free cashflow of USD 65 million, up 64% year on year.
Strong reception for merchant services in Egypt
Having successfully launched direct-to-merchant services in Egypt at the start of the year, Network's offering continues to receive a strong reception, having secured over 700 merchants, including Tradeline, who are Apple's authorized resellers in the first half of the year. The entry into direct-to-merchant services in Egypt represents a significant revenue opportunity, building on Network's already well-established presence as a processing services provider in the country.
New business momentum maintained with major KSA FI wins
Major merchant sign ups and strong SME performance:
Network International continued to attract a significant number of key account and SME merchants, with major new wins during the period including Talabat and Al Fujairah National Insurance Company.
The company's ongoing focus on the SME segment continues to pay off, delivering significant year on year growth in SME signings in the UAE, with sign-ups in the month of May accelerating substantially, up 80% year on year. The company's success was supported by additional investments in its sales team and the launch of new capabilities including its fully digital onboarding process and sector specific solutions.
Financial institution (FI) wins:
Network secured eight new customers across acquirer and issuer processing. It also continues to rapidly expand its customer base in Saudi Arabia signing three new financial institutions, including Alinma Bank, one of the region's top five FIs. Since entering the Kingdom in 2022, Network has quickly grown its customer base of processing customers to a total of nine.