Giza  – June 17th 2019, GSK Consumer Healthcare inaugurated The House of Voltaren; the latest  SmithKline Beecham semi solid production facility in Giza is operational. Serving the entire country, the Giza site saw its official opening ceremony on Tuesday, impressing upon everyone the contribution to the market being made by GSK Consumer Healthcare.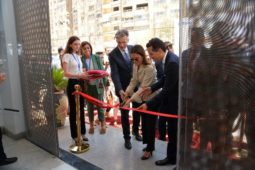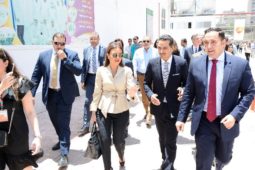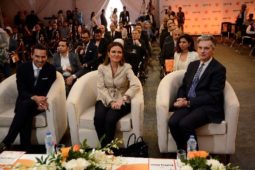 Egyptian Minister of Investment and International Cooperation Dr Sahar Nasr, British Ambassador to Egypt Sir Geoffrey Adams and the General Manager for GSK Consumer Healthcare Egypt & North Africa Nabil Besri all attended the occasion that took place at the Factory; Minister Nasr, Ambassador Adam and GM Besri all joined in for the ribbon cutting.
The inauguration signifies the investment of an estimated EGP 100 million by GSK Consumer Healthcare to upgrade the factory's semi solid production line to the very-highest standards, now capable of producing the latest in semi-solid pain-management medication.
GSK Consumer Healthcare generated global sales of GBP 7.5 billion last year, and in Egypt alone we produced more than 70 million packs of medical and health care products – almost all locally manufactured in the country across five specialized manufacturing sites
"GSK Consumer Healthcare plays a vital role in helping to improve the everyday health of people around the world. We are proud to be working in Egypt, and with Egyptians we will work toward growing our locally manufactured topical pain management portfolio," said Besri, "GSK Consumer Healthcare is driven by science and values, and is known to be the benchmark of quality. This investment in the Giza site will enable us to locally manufacture and secure the availability of one of our most popular brands, Voltaren Emulgel, with full production capacity fully covering the needs of the Egyptian market." He added.
The grand plans unveiled show that Voltaren Emulgel will be one of nearly 40 products being produced by the factory. With a production capacity sitting at just over 90 million, the site's 11 production lines will produce 39 differently formulated products, like Voltaren Emulgel, Lamisil Cream, Kenacomb Cream, Duricif syrup, Ceporex Tablets, Fortum injection, Maxipime vials and Capozide tablets.
British Ambassador to Egypt, Sir Geoffrey Adams, emphasised the historical relationship in saying,
"GSK Consumer Healthcare has proven successful time and again in the Egyptian medical community, and history shows reliable healthcare products over many years". Ambassador Adams continued, "GSK Consumer Healthcare and the United Kingdom continue to invest with the Egyptian government, in Egypt's potential, and a future that capitalizes on the many successes that have brought us here."
The upgrades align with the latest health and safety standards and regulations, which extend to separate storage facilities for flammable, medical or otherwise sensitive products. Also laid out in the 32,000 m2 site are administrative offices and a canteen, for the 349-strong workforce.
GSK is a science-led global healthcare company committed to improving the quality of human life by enabling people to do more, feel better and live longer. It has three global businesses: pharmaceutical medicines, vaccines and consumer healthcare products. GSK Consumer Healthcare is one of the world's largest consumer healthcare companies which owns some of the world's most loved healthcare brands including Sensodyne, Voltaren, Parodontax, Panadol, Corega, Otrivin. These brands are successful in over 100 countries around the world because they all show a passion for quality, guaranteed by science. They are inspired by the real wants and needs of the millions of people who walk into pharmacies, supermarkets, market stalls and go on-line all over the world every day and choose GSK Consumer Healthcare first.