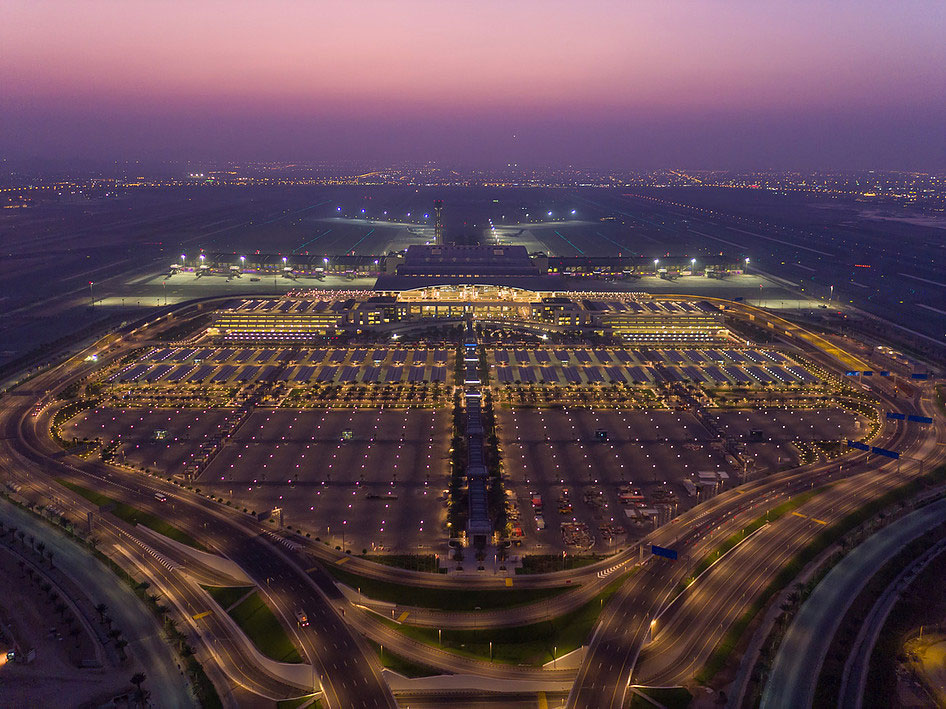 Muscat – Oman – Sunday, 13 November 2018: The Grand Opening of Muscat International Airport, one of the most spacious and beautiful airports in both the region and around the world was held in presence of Dr. Ahmed Mohammed Al Futaisi, Minister of Transport and Communications and Mustafa al Hinai, CEO of Oman Aviation Group. The airport has been designed and constructed to the highest standards of quality and service, and meets the International Air Transport Association's (IATA) classification for top airports.
Overseen by the Ministry of Transport and Communications, Muscat International Airport has an initial capacity for 20 million passengers per annum, with an expansion potential for 56 million passengers per annum. The terminal's total gross floor area is approximately 580,000 m2, excluding shade areas, open parking spaces, and the interior road network. The passenger terminal comprises: Three piers (3 floors each) linked by a central area (5 floors). There are three main entrances to these floors, as well as lounges allocated for arrivals, departures and VIPs.
(118) check-in counters for airlines, (22) departure emigration counters and (09) e-gates, and (40) arrival immigration counters and (16) e-gates. Retail and food & beverage outlets are located both airside and landside in an area covering (12) thousand m2. There are also dedicated rest and entertainment areas. Two Gates can accommodate wide-body Airbus 380 and Boeing 747 aircraft connected to boarding bridges, (10) Reclaim Belts: (8) for international flights and 2 for domestic flights with a capacity to handle (5,200) bags per hour and with a length of (11.2) km. The Departure BHS System has a sorter capacity of (5,520) bags per hour, with (12) make up carrousels divided between north and south piers. The terminal also has dedicated for first and business class passengers, airline offices, car rental agencies, and information kiosks.
Airside Hotel with a capacity of (90) rooms, equipped with all latest guest amenities and services including a swimming pool, food areas and a fitness club. The hotel is designed for future expansion of an additional (90) rooms. (40) Boarding bridges to transfer passengers to and from aircraft through (29) contact stands, (16) bus boarding lounges. There are (29) aircraft parking slots linked to the terminal and (59) additional parking slots for remote stands. (149) elevators of various sizes and purposes, (59) escalators and (39) travellators. There are (7) clinics, and (24) prayer rooms for male and females distributed landside and airside. The traffic area (arrivals and departures) at Muscat International Airport consists of three levels for a total floor area of (89,000 m2) which connects airport buildings to both the main and internal road networks. The ground level road network leads to operator offices and facilities, and is connected to the main airport area. Upper levels are used for inbound and outbound passenger traffic. The five-level "Northern" car park extends over (68,800 m2) and can accommodate more than (1,100) cars. The five-level southern car park extends over (67,000 m2) and can accommodate roughly (1,200) cars. The five-level passenger terminal comprises two external buildings for services, facilities and offices for operations and supervision units in the airport. The first is located in the northern area, and houses airport management offices. The second building (103,000 m2) is located in the southern area and houses offices for airport management, a central control centre, and a data centre. The outer area of the airport includes (4,722) parking slots, (2,054) of which are shaded parks connected to a shade corridor which leads to the terminal, and a bus waiting area surrounded by trees and greenery. There is also a services and facilities building.