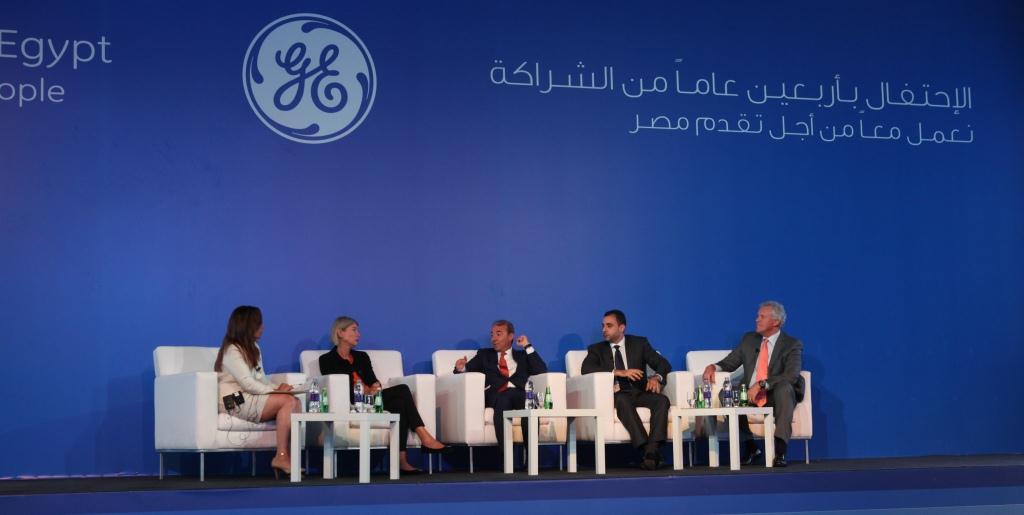 Cairo, Egypt; September 24, 2014: As Egypt launches a wide-ranging economic development plan to unlock the country's enormous prospects for growth, GE (NYSE: GE) today celebrated its 40-year partnership with Egypt and its work with government and private sector customers to address some of the country's toughest challenges.
During a customer event for more than 200 guests from government, industry, business and media, GE's senior executives and professionals highlighted some of the company's key technologies that address the country's current priorities in the areas of healthcare, transport, power, water, oil and gas, and human capacity building.
The highlight of the event was a panel discussion entitled "Accelerating Growth: Customer, Capabilities and Capital" that featured Basil El Baz, Chairman of Carbon Holdings; Jeffrey Immelt, GE's Chairman & Chief Executive Officer; Fabrizio Di Amato, Chairman of Maire Tecnimont Group, and Nada Shousha, Manager for Egypt, Libya & Yemen at the International Finance Corporation, a member of the World Bank Group.
The panel discussion focused on how public-private partnership has proven to be a powerful and sustainable model to accelerate long-term growth and drive development in Egypt because of its ability to bring together capital, technology and local expertise. It also evaluated the role of Egypt's youth talent and the development of SME's to support the infrastructure development initiatives.   Many technologies were on display during the GE Customer Day event, including water treatment solutions, wind turbines, upstream oil and gas equipment, next generation GE Leap and GE9X engine hardware, and in healthcare, advanced diagnostic imaging equipment, care management tools and incubators.
During the course of the discussion, a number of existing GE partnerships in Egypt were mentioned, as well as GE Oil & Gas and Petrojet Egypt to locally manufacture GE oilfield pumping units, and GE's $500 million commitment of water and power generation technology and capital to support Carbon Holdings' development of the world's largest naphtha cracker plant. Another example is GE's collaboration with GASCO, the Egyptian Natural Gas Company, to operate the Pipeline Integrity Management Center of Excellence (PIMCOE), while in healthcare; GE and the Ministry of Health operate a first-of-its-kind tele-radiology project to link remote hospitals to a central image repository in Cairo.
"With its tremendous human capital and natural resources, and the government's fresh approach to the road forward in addressing both immediate and longer-term priorities, Egypt demonstrates enormous potential for growth and innovation," Jeffrey Immelt said. "As Egypt pursues its wide-ranging economic development and infrastructure investment programs, GE will support these efforts with new and existing technologies and systems that can best support the most important sectors driving Egypt's move forward.
In electricity generation, GE offers distributed power solutions that can add significant reliable and sustainable power, both on- and off-grid and in as little as a few days, while the company's gas turbine upgrade solutions can reduce downtown and emissions of GE gas turbines, improve output and add functionality to power plants in Egypt.
GE is actively working with the Egyptian Electricity Holding Company to install new production capacity, including eight GE 9FA turbines in the Giza North and Banha combined-cycle power plants that will add 3,000 megawatts. Working alongside Kharafi National, GE is installing 16 GE 9E turbines at the El Shabab, Damietta and West Damietta power plants that will add 1,500 megawatts of power.
GE is working with local and international partners on a range of subsea oil and gas projects to enhance infrastructure that is contributing to the growth of Egypt's hydrocarbon sector. This includes working with Petrobel, a joint venture between the Egyptian General Petroleum Corporation and Italian energy firm ENI, and Burullus Gas Company, a joint venture between the Egyptian Gas Holding Company and BG Egypt.
Given the direct link between a healthy workforce and increased national productivity, GE is working with the Ministry of Health on a range of initiatives to improve access to high-quality health care, and promote greater awareness regarding health. This includes a breast cancer screening program, Egypt's first tele-radiology project to connect six remote hospitals to a central image repository in Cairo, and working with the National Cancer Institute to install a PET/CT scanner, a suite of healthcare imaging units for women, and a health information system.
Aviation is a key enabler of economic growth, so it's little surprise that for 35 of GE's 40 years in Egypt, the company has supported EgyptAir. Today GE engine technology powers 60% of the airline's fleet. On the ground, rail transportation is fundamental to the country's transportation infrastructure, and GE has been a partner to Egyptian National Railways (ENR) for more than 30 years, powering 110 locomotives, representing approximately 20% of ENR's hauling capacity. This includes 80 Evolution Series locomotives, whose outstanding hauling capacity enables ENR to move more cargo.
GE helps light some of Egypt's most high-profile buildings, including Cairo International Airport's Terminal 3, where GE Lighting worked with TAV (ANEL) to install 20,000 recessed fluorescent fixtures and 13,000 Polylux LFL tubes. GE Lighting partnered with Zaki El-Sewedy to optimize exterior lighting across El Salam Stadium's football field by installing 222 GE Metal Halid Euroflood Lighting fixtures, each at the capacity of 2000 watts.
More than 400 GE employees work in the power and water, upstream oil and gas, air and rail transportation, and healthcare sectors to support customers with advanced technologies and solutions that are helping deliver growth, innovation and sustainable development to the people of Egypt.