 Working visit follows MoU signing and focuses on capacity building and knowledge exchange
 Participants include representatives from Central Laboratory and the Pesticides Committee
Cairo, 23 August 2017 – A senior delegation from the Egyptian Ministry of Agriculture and land reclamation visited the headquarters and the Agricultural Research Center of one of the largest chemical producers in the world, BASF, in Germany.
The purpose of the visit was to learn about new and innovative products for farming, pest control and seed treatment, and to discuss testing methods for crop protection products. The Egyptian delegation, representing the Ministry of Agriculture Central Laboratory and Pesticide Committee, were keen to raise and discuss the current challenges and opportunities of the agricultural sector in Egypt, including ground fertility, sustainable agriculture and water management.
Commenting on the visit, Dr Mustafa Abdel-Satar Secretary of the Committee on Agricultural Pesticides, said: "Visits such as this provide a unique experience for representatives from the Ministry of Agriculture to learn first-hand from industry experts and to discuss how we can provide safe and affordable solutions to Egyptian farmers that help them grow their crops in the best possible way." Dr. Mamdouh Sherif, Head of the Central Laboratory in Ministry of Agriculture, added that "they are grateful to BASF for hosting the group and hope that their experience will positively impact the sustainable development of Egypt's agricultural sector." The visit follows the signing of a Memorandum of Understanding (MoU) between the Ministry of Agriculture and BASF Egypt Ltd. in 2016. The MoU called for knowledge sharing and an exchange of experience between the two parties, notably in the field of product stewardship and technical support.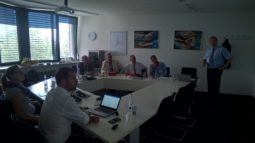 The delegation also visited the Agricultural Research Centers' herbicide and fungicide green houses, where they saw how BASF conducts its pesticide and herbicide testing and trials, as well as the fungicide lab. The delegation was also briefed on seed treatment solutions – a valuable step to protect plants and preserve yields. The BASF team presented about pesticide regulations and registration in EU and Germany, MRLs, Stewardship, Anticounterfeit and other subjects. In addition, production facilities and quality control labs in BASF'S headquarter in Ludwigshafen were on the delegation's visit agenda.
The trip concluded with a visit to Rehhütte, a state-of-the-art farm estate, which is managed according to the principles of "integrated cultivation" by combining responsibility for a diverse and healthy environment with the commercial requirements of a modern agricultural operation.
For more information: https://www.basf.com/eg