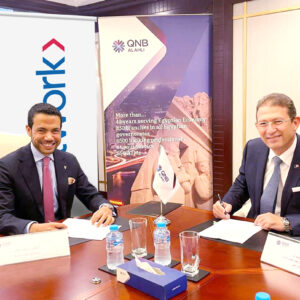 Egypt, 11 December, 2022: Network International (Network), the leading enabler of digital commerce across the Middle East and Africa (MEA) region, has signed a 10-year contract with one of Egypt's largest private sector banks, QNB ALAHLI, to provide payments processing solutions and API gateway services to support the bank's long-term digital and commercial transformation agenda.
QNB ALAHLI is a subsidiary of the QNB Group, the biggest financial institution in the Middle East and Africa. The agreement with Network International is part of the bank's digital-first strategy to enhance its proposition to customers and increase its presence in the Egyptian market. With evolving consumer payment trends in the North African region, Network will enable QNB ALAHLI to offer digital payment solutions including card and next-gen ecommerce solutions to their customers.
Collaborating with Network offers QNB ALAHLI access to Network's years of experience and expertise in holistic payment solutions for the North African market. QNB ALAHLI will benefit from Network's advanced digital infrastructure and robust security protocols, avoiding the need to invest in payment processing infrastructure.
Additionally, Network's API gateway expertise will enable QNB ALAHLI with a future-ready microservices architecture that allows for the seamless integration of any number of advanced implementations, ensuring maximum potential for creative revenue streams for the next decade.
Mr. Mohamed Bedeir, Chief Executive Officer of QNB ALAHLI, said: "Within QNB ALAHLI's pioneering role in supporting digital transformation and creating a market less dependent on cash, the bank trusts the rapid growth in the payment industry through digital and commercial transformation driven by Network International's proven capabilities.
"Our 10-year agreement will open up limitless opportunities for QNB ALAHLI and Network International to go far beyond all ambitions as we are keen to provide the best innovative and advanced services to suit the aspirations and needs of all our customers."
Dr. Reda Helal, Group Managing Director – Processing, Africa & Co-Head Group Processing at Network International commented, "We are thrilled to be spearheading a long-standing relationship supporting one of the largest financial institutions in Egypt with their digital and commercial transformation. The 10-year contract marks a pivotal point for our processing business in North Africa given how crucial QNB ALAHLI is to the region's banking sector. We look forward to pushing the limits and extending our capabilities in terms of innovation, API infrastructure, and long-term customer satisfaction."
The strategic, 10-year agreement with QNB ALAHLI covers multiple product lines that will have a major impact on business generated by cards and other modes of digital payment, while also enabling QNB ALAHLI to offer premium payment solutions to their customers.
About Network International
Network International comprises a group of companies and is the leading enabler of digital commerce across the Middle East and Africa (MEA) region, providing a full suite of technology-enabled payments solutions to merchants and financial institutions of all types and sizes, including acquiring and processing services and a comprehensive ever-evolving range of value-added services. Network International Holdings Plc (LSE: NETW) is the holding company for Network International and the group companies, including the DPO Group.
About QNB ALAHLI
QNB ALAHLI is one of the leading financial institutions in Egypt and one of the subsidiaries of QNB Group, the largest financial institution in the Middle East and Africa, and the official supporter of the FIFA World Cup Qatar 2022™ in Middle East and Africa. QNB ALAHLI provides its services for more than 1,398,973 clients served by 7,000 banking professionals with a network of 231 branches, along with 883 ATMs & 58,711 Point-of-Sale to serve clients nationwide. The bank's vision is to maintain proximity to its customers by offering a wide range of products that serve different financial with a balanced focus on both the corporate sector and the retail banking sector.