H.E. Minister of Communications and Information Technology met Xiaomi senior management in Beijing aiming for more collaboration on the technology front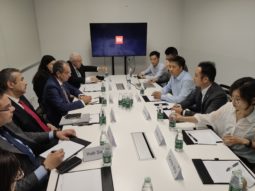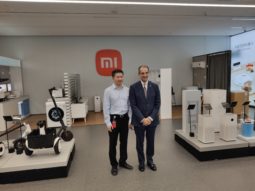 Beijing, China, August 9th 2019, The Minister of Communications and Information Technology (MCIT) Dr. Amr Talaat along with the VIP delegation from the ministry met today with Xiaomi Vice President Mr. Alex Xiang and head of Xiaomi Global Government Affairs Lancelot Liu to explore expansion and investment opportunities in Egypt.
Key discussions centred on the topics of investment opportunities for Xiaomi in Egypt's electronic and ICT sectors, as well as the possibilities for collaboration between Xiaomi and local Egyptian companies.
MCIT underlined the importance of cooperation with the Chinese company in the smart phone sector. "Egypt has massive investment opportunities in the ICT sector for supporting the national strategy of development based on two axis: achieving digital transformation in governmental institutions and building Egypt's human capital." said the minister.
MCIT stressed the importance of Chinese investment in Egypt, which reflects the increasing confidence in the investment climate, pointing out the importance of this investment in achieving growth and job creation.
The visit of MCIT to Xiaomi headquarters took place during his participation in the Innovation in the Future Networks of BRICS countries Forum, which was held in China from August 5 to 9.
"Xiaomi is an internet company with smartphones and smart hardware connected by an Internet of Things platform at its core. Our products are present in more than 80 countries and regions around the world and have a leading foothold in many markets. We see Egypt as a key market in our global expansion journey. Egypt is a promising market for us with large consumers and access to the MENA region. We aim to develop further positive initiatives within the ICT sector in Egypt that will lead to massive transformation and contribute to the economic development of the country." said Alex Xiang, Xiaomi Vice President.
"In just nine years, with the unwavering support of our Mi Fans and users, we can proudly continue to pursue innovative, well-designed and high-quality technology products. We look to international partners in helping us further this," said VP Xiang, who continued, "With the mission 'Innovation for everyone', Xiaomi is committed to bring more amazing products with honest prices to let everyone in the world enjoy a better life through our innovative technology."
It is worth mentioning that the Beijing-based global technology leader has recently for the first time made the Fortune Global 500 list, nine years after its inception. Xiaomi is the youngest company on the Fortune Global 500 list for 2019, ranking 468th, with a revenue of $26,443.50 million and a net profit of $2,049.10 million in the previous financial year. Xiaomi also ranks 7th in the Internet Services and Retailing category.