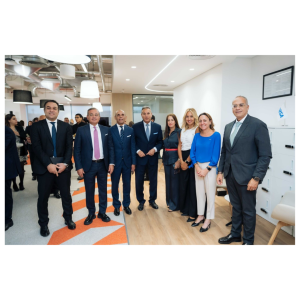 New office is an extension of Visa's culture of collaboration, innovation, and inclusivity
Visa commits ongoing support to local partners to drive digitalization of payment landscape in Egypt
Cairo, Egypt, 26 September 2023: Visa, the world's digital payments leader has officially inaugurated its new office in Egypt. Visa's expanded on-ground presence in Egypt is a testament to its commitment to supporting the company's financial institution and merchant clients, local government partners, investments, and local communities as part of continued efforts to drive digitization of the payments landscape.
With the new office, Visa aims to strengthen its ongoing talent acquisition strategy by attracting and retaining key talent. Employees in the Egypt office will support both local and hub priorities and will provide local talent with the opportunity to grow their careers and attain world-class skillsets. Year-on-year, Visa offices in the North Africa, Levant and Pakistan (NALP) region have seen 15% growth in staff strength .1 The new purpose-built office space is designed entirely around needs of employees and allows for a hybrid work environment, thus extending Visa's culture of collaboration, innovation, and inclusivity.
With the acceleration of cash displacement in the NALP region, Visa expects digital payment adoption to increase much faster in the next few years and is committed to supporting Egypt's digital transformation to a cashless economy. The company's many innovative solutions deployed over the years continue to encourage this shift to digital payments in Egypt. Visa recognizes emerging trends in consumer payment behavior and payment patterns and remains committed to capturing these regional opportunities.
"The expansion of our flagship office in Egypt marks a significant milestone in our regional expansion. Visa was the first international digital payments organization to begin operations in Egypt and we continue to believe in the country's immense potential," said Leila Serhan, Vice President and Group Country Manager for North Africa, Levant and Pakistan "As part of our overarching strategy for the NALP region, our new office will enable us to share our global learnings to benefit our work with local governments, financial institution clients, merchants, and fintech partners to develop and deploy efficient, convenient, and secure processes for offline and online commerce."  Leila added
"As a network that works for everyone, everywhere, Visa's mission is to drive digital commerce for the benefit of consumers, businesses, and the economy. For us at Visa, it is a place where our employees, clients and partners can seamlessly collaborate to create solutions, develop user experiences, and share ideas – all with the goal of helping businesses, individuals and economies thrive, The launch of Visa's office in Egypt follows a series of breakthrough partnerships with the public and private sectors to launch innovative payment products to design and deliver the payment options consumers in Egypt seek," said Malak El Baba, Egypt Country Manager at Visa.
About Visa Inc.
Visa (NYSE: V) is a world leader in digital payments, facilitating transactions between consumers, merchants, financial institutions and government entities across more than 200 countries and territories. Our mission is to connect the world through the most innovative, convenient, reliable and secure payments network, enabling individuals, businesses and economies to thrive. We believe that economies that include everyone everywhere, uplift everyone everywhere and see access as foundational to the future of money movement. Learn more at About Visa, visamiddleeast.com/blog and @Visacemea.