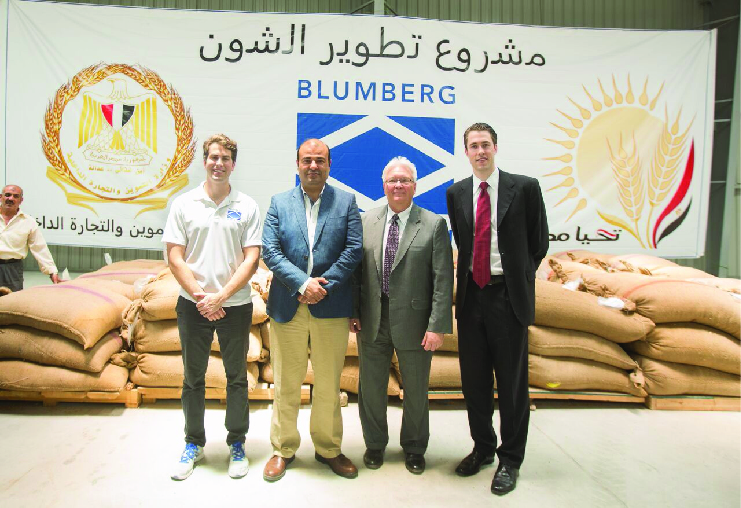 Alexandria, Egypt, Sunday 14th June, 2015: Blumberg Grain, a leading US-based food security company, today unveiled the first site of the Shouna Development Project in the presence of Minister of Supply and Internal Trade, Dr. Khaled Hanafy.
An initiative supported by President Abdel Fattah al-Sisi's Viva Egypt Fund, the Shouna Development Project will see the implementation of the Middle East and North Africa's largest integrated food security network for grain storage. The first phase of this project will modernize 105 Shouna, once open air storage pits, with state-of-the-art warehousing systems, known as Blumberg Grain Aggregation Centers, which will enable the primary processing and preservation of locally harvested wheat.
The integrated crop and food storage systems developed by Blumberg Grain and the Ministry of Defense's Engineering Authority will reduce post-harvest losses in Egypt, currently in excess of 40 percent of production, down to less than 5 percent.  The first 105 systems are estimated to save Egypt US$ 200 million annually.
Minister of Supply, Dr. Khaled Hanafy commented, "This is a great achievement for the Egyptians, we are now moving towards a future with improved infrastructure which supports President Abdel Fattah al-Sisi's vision to build a sustainable economy, which is open, inclusive, and transparent. Blumberg Grain has delivered a system that will transform our nation's grain infrastructure and we look forward to the system being fully complete and integrated."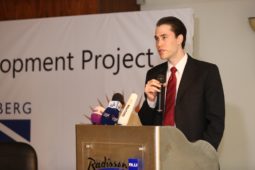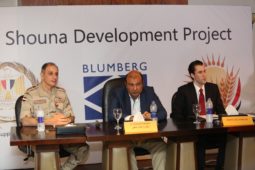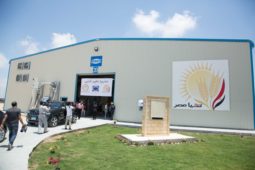 The Shouna Development Project brings to Egypt the latest food security technology that will allow for screening, drying, cleaning, grading, and bagging of wheat. This will enable processing capacity of 3.7 million metric tons of wheat per year, and create 750,000 metric tons of new static storage capacity, in turn revolutionizing the local wheat harvest value chain in Egypt. A second phase of the project would see an additional 207 Shouna modernized, bringing the total up to 300 sites.
David Blumberg, Chief Executive Officer of Blumberg Grain, Middle East and Africa said, "Blumberg Grain is helping advance the Egyptian Economic Development Strategy Towards 2030, which seeks to improve infrastructure, build a modern and democratic society and create jobs. We want to thank President Abdel Fattah al-Sisi, the Ministry of Supply, and the Army Engineering Authority who have been the driving force of this project, assisting in turning concept into reality."
"We are pleased to see the completion of the first three Blumberg Grain Aggregation Centers, which will serve as training facilities for the managers at all sites. Along with our training, our state-of-the-art technology will help modernize Egyptian agriculture. Egypt, with the assistance of Blumberg Grain, is taking a positive step in the right direction in eliminating post-harvest losses and creating a model for food security."
The Executive Vice President and Head of International Affairs at the U.S. Chamber of Commerce, Myron Brilliant, commented, "At the U.S. Chamber of Commerce, we are working to deepen and expand American investment and trade with Egypt. The project being launched today by Blumberg Grain, in partnership with the Egyptian Ministry of Supply and Internal Trade and the Army Engineering Authority, exemplifies the sort of collaboration that utilizes American know-how and expertise to move Egypt forward. We know food security is critical for the people of Egypt. Having Blumberg Grain leading this effort by implementing their integrated systems for grain storage will help Egypt achieve its objectives in food security."
Additionally, Blumberg Grain will provide a Command Center in Cairo to centralize monitoring of security, environmental controls, and inventory management. Problems can be identified and addressed remotely to ensure the harvest is protected at all times.
Blumberg Grain also has plans to build a Manufacturing Plant and Export Hub, which will fabricate and distribute the Blumberg Grain systems for the entire MENA region. The location is yet to be determined, but Egypt is well positioned to serve as home to the Hub. If Egypt is selected, it will create more than 1,000 jobs for Egyptian nationals as well as having a US$ 1 billion economic impact during its first year of operation, and a US$ 7 billion impact over a five year period.
Philip Blumberg, Chairman of Blumberg Grain's parent company, Blumberg Partners, concluded, "We have great confidence in Egypt and its growing role as the food security center of the Middle East. I send my warmest congratulations to President al-Sisi, Minister Hanafy and the great Egyptian people for this accomplishment and we look forward to our company's continued role in developing Egypt's food security and to our major investments in Egypt's future."