20 tons of cleaning materials delivered to hospitals treating Covid-19 patients in Greater Cairo
BASF Ltd. launches a special campaign to support Egypt's farmers providing free hand sanitizer through its agricultural retail points of sale
Social media and SMS-campaign aimed at raising awareness for hygiene measures amongst farmers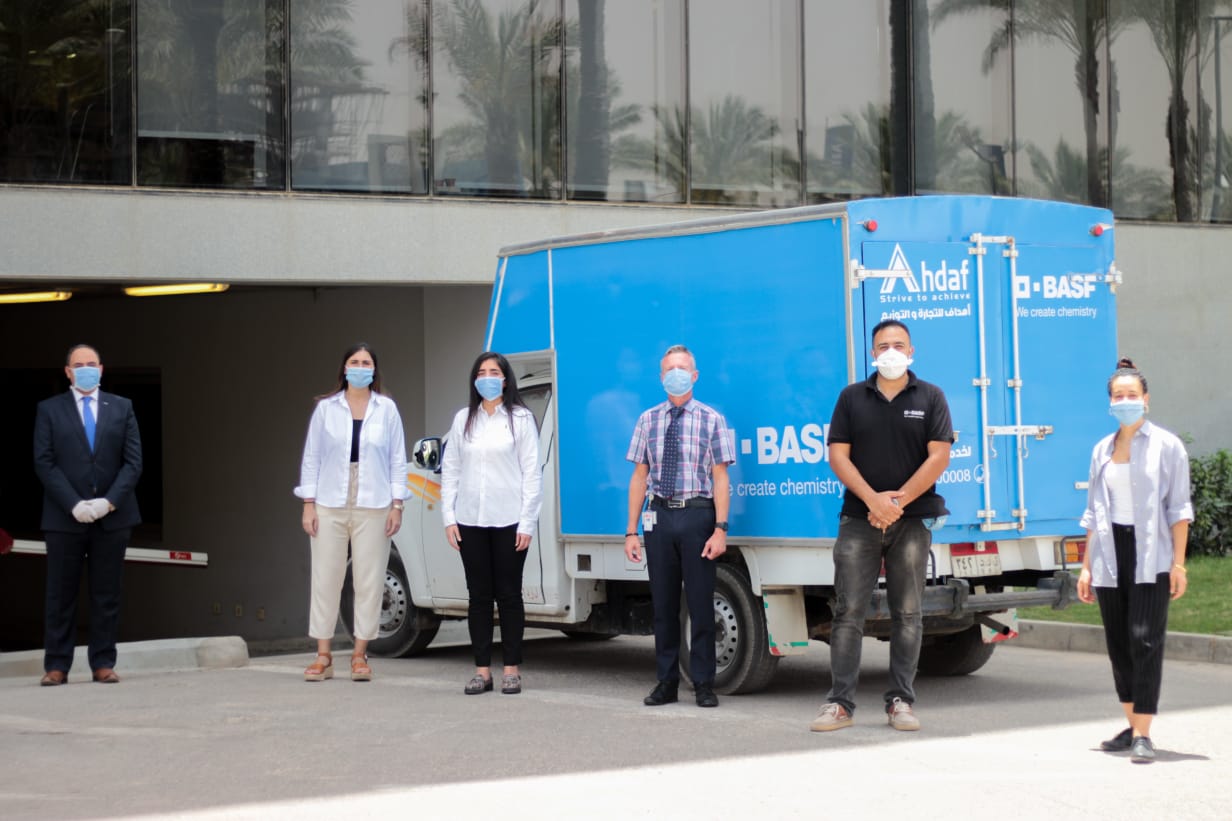 Cairo, Egypt: 3 June, 2020 – BASF, the world's leading chemical company, together with My Way, one of Egypt's leading consumer goods manufacturers, have started the production of cleaning agents to donate to hospitals treating patients infected by COVID-19 in the Greater Cairo area. The cleaning materials can be used to disinfect floors and non-medical equipment. BASF produces some of the raw materials that are being used to manufacture the cleaning agents.
As the leading provider of agricultural solutions across rural areas in Egypt, BASF also extends a helping hand to the country's farmers. At its retailers' points of sale in Upper Egypt, West Delta and Central & East Delta, hand sanitizer is made freely available to growers, who are getting informed through a social media and SMS-campaign about good hygiene practices that help stop the spread of COVID-19.
"The spread of the novel Covid-19 is a challenge for Egypt and the whole world. At our headquarter in Germany, we have started to produce sanitizer for hospitals nearby. As a sign of our commitment to Egypt and the Egyptian population, we wanted to extend this 'Helping Hands' campaign to Egypt and help within the scope of our possibilities," says Xavier Verfaillie, BASF Managing Director for Egypt, Sudan and the Levant.
"With our raw materials we can produce a meaningful volume of cleaning agents for hospitals," adds Verfaillie. "We are proud to work together with our customer My Way to protect human health and safety."
BASF has traditionally directed much of its community outreach efforts towards serving, supporting and educating growers through its mobile clinics, explains Magdy ElSobky, Regional Manager Agricultural Solutions Nile & Middle East. "Farmers in Egypt are considered a particularly high-risk group for the Covid-19 pandemic. From our experience with the mobile clinics, we know they don't always have access to the right information, that is why we decided to support them with an awareness campaign and to provide them with free hand sanitizers through our points of sale. It is a logical extension of our community campaign during these challenging times."
"We highly appreciate the dedication of all farmers, supply chain front liners, distributors, our colleagues and everyone else working steadily in the entire food chain to ensure that we have sufficient food on our tables, especially during this challenging time," says ElSobky.
In Egypt, BASF is active across a wide range of industries including Care Chemicals, Catalysts, Coatings, Construction Chemicals, Agricultural Solutions, Dispersions & Pigments, Intermediates, Monomers, Nutrition & Health, Performance Chemicals, Performance Materials, Petrochemicals, and other operating activities.
About BASF
At BASF, we create chemistry for a sustainable future. We combine economic success with environmental protection and social responsibility. More than 117,000 employees in the BASF Group work on contributing to the success of our customers in nearly all sectors and almost every country in the world. Our portfolio is organized into six segments: Chemicals, Materials, Industrial Solutions, Surface Technologies, Nutrition & Care and Agricultural Solutions. BASF generated sales of €59 billion in 2019. BASF shares are traded on the stock exchange in Frankfurt (BAS) and as American Depositary Receipts (BASFY) in the U.S. Further information at www.basf.com