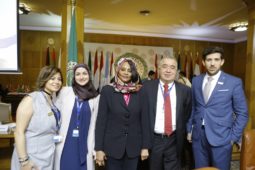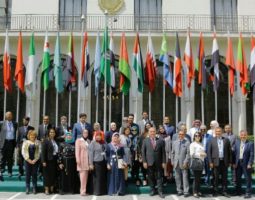 Cairo, 23 April 2018- The Arab League, the regional organization of Arab states, in collaboration with SMAS-IP, a firm that specializes in intellectual property across the MENA region, recently hosted "Empowering Change: Women in Innovation and Creativity" conference.
The conference, held annually in honor of World Intellectual Property Day, is one of the most highly regarded intellectually property (IP) rights conferences featuring renowned and distinguished experts on the subject. Intellectual Property rights professionals including Dr. Maha Bekheit, head of the Intellectual Property and Competitiveness Unit of the Economic Sector at the General Secretariat of the Arab League; Mr. Nidal Al Kharouf, CEO of SMAS-IP; and Dr. Waleed Abdel Nasser Manager of WIPO Regional Bureau for Arab countries, delivered keynote speeches at the opening of the conference.
Among the topics covered, the event discussed the importance of empowering Arab women's IP rights to ensure their contribution to Arab culture and innovation. It also addressed some common challenges that women face in IP by having high-level delegates from a number of Arab countries talk about these challenges and give examples of women's success stories.
In-depth panel discussions hosted by thought leaders and esteemed professors were also featured in the conference. They included:
Status of Arab women in scientific and technological knowledge and the challenges they face in Arab societies, by Dr. Maha Bekheit, head of the Intellectual Property and Competitiveness Unit
Supporting and encouraging women inventors across the globe, by Ms. Miyoung Han, President of World Women Inventors and Entrepreneurs Association (WWIEA)
Challenges faced by Arab women in cinematic arts-acting and director, by Dr. Nabila Hassan, Head of Acting and Directing Department of the Higher Institute of Dramatic Arts.
International speakers including Jordanian Lawyer, Mrs. Nadia Qadri, also addressed the challenges facing Arab working women in the field of Intellectual Property rights. Meanwhile, Dr. Soheir Montasser, head of the Department of Civil Law- Faculty of Law at Zagazig University, demonstrated how women can protect their rights through legal and institutional channels.
"The World Intellectual Property Day is a good opportunity for all those interested to learn about IP, says Dr. Maha Bekheit. "The purpose of this conference is to highlight the importance of women's rights in the Arab world in Intellectual property to ensure their contribution and to benefit from their creative and innovative skills in achieving economic, social, and cultural development."
"SMAS Intellectual Property's vision is  to raise awareness about registration and protecting intellectual property rights in the Arab world and providing related services and help our clients manage their Intellectual Property Rights portfolio, said Mr. Nidal Al Kharouf, CEO of SMAS-IP. "We look forward to a cooperation between SMAS- IP and the local and international organizations in providing training courses for those interested and influencing the decision makers to use the intellectual property rights system."
Attendees included consultants, specialists working in the field of protection and registration of intellectual property rights, government officials, lawyers, researchers and inventors, owners of small and medium enterprises, offices of intellectual property and innovation support in universities and educational institutions as well as authors and creators.
Intellectual Property is an essential tool in embracing innovation and creativity. Given the importance of intellectual property rights and its role in regulating commercial competition between countries, it is important to have specialized laws, regulations and jurisdictions to implement intellectual property rights laws and encourage inventors and creators to seek protection for their IP rights. All creative intellectual works in the fields of literature, arts or science such as books, lectures and works of art including films, recordings, photographs, paintings, architectural design, maps, computer programs or electronic publishing are all subject to intellectual Property protection.